By Joan Namkoong
Advertiser Food Editor
Gift-giving is year-round in Hawai'i, so if you're still looking for Island treats to send to Mainland friends and family, here are a couple of ideas.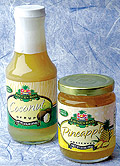 Dole Plantation's new lines of jams and syrups is sold only at its Dole Plantation store in Central O'ahu.

A couple of local food companies introduced new products and gift packages this holiday season. Dole Plantation released a new line of jams, preserves, syrups, jelly and salsa sold only at its Dole Plantation store between Wahiawa and Hale'iwa. Five fruit-flavored jams (guava passion orange, pineapple guava, guava strawberry, pineapple papaya and guava), passion fruit jelly, pineapple papaya and pineapple preserves, coconut and pineapple syrup and Maui onion and pineapple salsas make up the new items, which sell for $3.95 and up. The Dole Plantation brand includes coffee, chocolates and candy. Dole Plantation store is open 9 a.m. to 6 p.m. daily.

Mauna Loa, the macadamia nut folks, introduced Island Treasures Collections, a gift box of assorted items that includes dry-roasted salted macadamia nuts, Ghirardelli chocolate-covered macadamia nuts, brownie crisp cookies and Superior Royal Kona coffee. Look for these gift packs wherever Mauna Loa products are sold.

Fresh fruit help

If you have an abundance of fruit from holiday gift baskets, Del Monte Fresh Produce has some ideas at www.fruits.com, a new Web site. Of course, there's nothing wrong with eating the fruit fresh.

Send shopping queries and new product information to: Market Basket, The Honolulu Advertiser, P.O. Box 3110, Honolulu, HI 96802. Fax: 525-8055. E-mail: islandlife@honoluluadvertiser.com. Or call: 525-8069.