By Jolie Jean Cotton
Special to The Advertiser
Children's book publishers are reinventing legendary stories by fusing them with contemporary art. Of the new releases, here's what I like best:
"ELSIE PIDDOCK SKIPS IN HER SLEEP" by Eleanor Farjeon, Charlotte Voake illustrator, Candlewick, $16.99, ages 6-10.
Wow. Have you ever finished a book and all you could say was, "Wow"? Author Eleanor Farjeon's classic fairy story "Elsie Piddock Skips in Her Sleep" is that kind of book. Farjeon weaves a masterful tale around a little girl from Glynde, England.
Elsie Piddock is a born skipper. By age 6, Elsie is famous throughout the land for her rope jumping tricks. At 7, the fairies invite her to Mount Caburn to learn all they know - "The High Skip, the Slow Skip, the Skip Double-Double, the Long Skip, the Strong Skip, the Skip Against Trouble." Elsie masters them all.
One hundred years later, a greedy landlord threatens to close Mount Caburn. At 107, Elsie Piddock attempts to save her skipping ground for all of the children, and the fairies, too.
Voake's fine ink-and-watercolor sketches joined with Farjeon's magic voice has created a brilliant picture book, perfect for reading aloud.
The tale is taken from Farjeon's collection of stories, "Martin Pippin in the Daisy Field," published in 1937. This is the first time the story is published as a picture book. Farjeon is perhaps best known for her hymn, "Morning Has Broken."
"ALICE'S ADVENTURES IN WONDERLAND" by Lewis Carroll, Helen Oxenbury illustrator. Candlewick, $24.99, ages 7 and up.
Lewis Carroll's classic about a little girl who falls down a rabbit hole and discovers a world of fantastic, nonsensical characters was originally published in 1865. Here, award-winning British illustrator Helen Oxenbury creates a thoroughly accessible, modern-day Alice in her exquisite interpretation of Carroll's masterpiece.
This unabridged version is abundantly illustrated with updated images of the beloved Mad Hatter, the Cheshire Cat and the Queen of Hearts. Alice herself sports white Keds with no socks, a blue sleeveless shirt dress, and tousled blonde locks.
Oxenbury's warm, humorous watercolors handsomely compliment the wacky world of Wonderland. Printed in Italy on heavy-weight, creamed colored paper, with large typeface and generous margins, both the artwork and the book itself are elegantly designed. The result is a first-class presentation of a must-read book.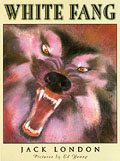 "WHITE FANG" by Jack London, Ed Young illustrator, Atheneum, $25, ages 12 and up.
Wedding London's classic adventure with Caldecott-winning artist Ed Young's evocative paintings is a marriage made in heaven.
"I started my work as a person who loves animals," Young told me last summer at the Children's Literature Hawai'i conference. "Even when I was in advertising, I'd go to the zoo a lot. And I drew pictures. I was interested in structures, the way an animal is structured. I look at an animal and see the skeleton inside, and see how the muscles are formed, and what makes them move the way they do, and what kind of rhythm, what kind of spirit the animal has."
Young uses pastels to expose the essence of White Fang, a wild wolf/dog struggling with his loss of freedom in the Alaskan wilderness. White Fang is driven near mad by a sadistic owner before being befriended by a kind master that offers him friendship. Nearly a dozen of Young's magnificent impressionistic images are sprinkled throughout London's striking account of the Klondike gold rush.