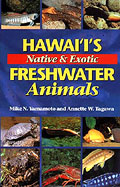 Hawai'i's Native and Exotic Freshwater Animals," by Mike N.Yamamoto and Annette W. Tagawa, 200 pages, softcover, Mutual Publishing $12.95.
Book Review
A guide to the Islands' freshwater animals
A new book by state aquatic biologists Mike Yamamoto and Annette Tagawa shows the huge diversity of life in Hawai'i's streams, lakes, ditches, reservoirs, and even underground caverns.

Contemporary art colors old classics
Children's book publishers are reinventing legendary stories by fusing them with contemporary art. Of the new releases, here's what I like best.
Tube Notes