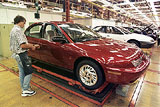 Manufacturing plants lost 62,000 jobs in December with 8,000 of those layoffs occurring at auto factories, which are struggling with high inventories and slumping sales.
Job growth stalls nationwide
Job growth nationwide fell to the slowest pace in eight years with auto plants and other factories shedding thousands of workers in December. Analysts predicted sharply higher unemployment in the months ahead.

United to expand daily Maui service
United Airlines on Feb. 15 will start a third daily flight between San Francisco and Maui, a move airline officials said was a reaction to the increased popularity of Maui as a tourism destination.
Coming Events