By Jennifer Hiller
Advertiser Staff Writer
In 1954, Paul and Alice Scheuer went swimming in Hanauma Bay, armed with screwdrivers.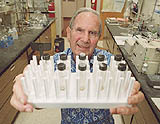 Paul Scheuer was the first chemist anywhere to begin studying the compounds produced by sea life. Now, says a colleague, there are dozens of groups worldwide doing such research. At 85, Scheuer is still working in his lab.

Cory Lum • The Honolulu Advertiser

In the name of science, they pried sea urchins from the rocky bottoms and hauled them back to the University of Hawai'i. Paul Scheuer smiles at the memory. In retrospect, it wasn't the most ideal way to collect a specimen.

But that rudimentary visit to Hanauma Bay with his wife allowed him to pioneer a new branch of chemistry: the study of marine natural products. Scheuer became the first chemist in the world to start chronicling the compounds produced by sea life.

"He started a movement," said Roy Okuda, a chemistry professor at San Jose State University who did his graduate work under Scheuer. "Now there are 50-60 groups throughout the world working on this. The amazing thing is he still does research. He's like the Energizer Bunny."

At 85, Scheuer is celebrating his 50th year at the University of Hawai'i-MŒnoa and has no intention of leaving soon. Although he officially retired in 1985, Scheuer has never abandoned his research and continues to study the molecular chemistry of coral reef organisms, isolating and testing compounds for their potential use by the pharmaceutical industry.

"I hope I can continue, that my health will hold up," he said. "My hope is that one of the compounds we studied will become a drug and be useful." In fact, a compound from an algae-eating mollusk he discovered near Kahala just went into human clinical trials in Europe as a treatment for prostate cancer.

Scheuer's work ethic remains relentless. He has received grants from the National Science Foundation for the last 49 years. Despite being diagnosed with leukemia a year ago, Scheuer published 12 papers in 2000 and submitted three others that have not yet gone to print.

The man known as the father of marine natural products said his reason for returning every day to his office at Bilger Hall is simple. "I just enjoy it," he said. "The alternative would be yard work."

Scheuer came late to chemistry. He is Jewish, and Hitler's rise to power in his native Germany and the racial laws that followed prevented him from attending university there. He became a tannery apprentice instead. In September 1938, he left Europe for the United States and found a job sorting and packaging calf and sheep leather. He found his calling when he took night school chemistry classes, hoping to understand the process that changes cowhide into leather.

He attended Northeastern University, then Harvard for graduate work in organic chemistry.

Scheuer and his wife, Alice, came to UH on a whim in 1950. The chemistry department had a handful of people in it, and faculty housing was an old Army barracks in a sugar cane field. Farm animals were their closest neighbors.

"I had never been near an ocean before I came here," Scheuer said. "Studying naturally occurring organic compounds was an old and respected field. It was traditionally restricted to terrestrial plants. The ocean was not accessible. There was no scuba. Unless something hurt people, there was no reason to look at marine organisms."

But Scheuer saw an ocean of possibilities.

His 1973 book, "Chemistry of Marine Natural Products," was the first in any language on that topic. His pioneering and nonstop research has made Scheuer known to scientists worldwide, and although he has generated $5 million in research grants for the university, Scheuer has kept a low profile in Hawai'i.

But former students say Scheuer should be as respected for teaching as he is for research.

Joyce Tsunoda, senior vice president of internal affairs for the UH system and community colleges chancellor, took Scheuer's organic chemistry class as a 19-year-old sophomore. She was a reluctant education major on track to become a high school math or science teacher, but Scheuer encouraged her to study chemistry.

"It was a difficult decision to make in those days," Tsunoda said. "All good Japanese girls who went to the university were expected to become teachers or nurses." She also worried she would lose her scholarship and have no way to pay for college if she changed majors.

But Scheuer helped her get a new scholarship. Tsunoda did her graduate and doctoral work in biochemistry.

"I owe him a lot," she said. "I think my life has really been changed by knowing him. He was the person who encouraged me. He is my mentor, my friend, someone who has given me advice through the years."

Although Scheuer no longer teaches, he is still a mentor.

"It's wonderful when your students do well, and I take great pride in that," Scheuer said. "And it's great when your research comes up roses. I've always found the need to do both."

Scheuer dismisses the idea of relaxing. He's applying for renewal of his most recent National Science Foundation grant. Eschewing chemotherapy, he has beaten the leukemia, and his cheeks have the rosy glow of health and high spirits. Although hospital visits reduced his time at the office last year, Scheuer says he is returning to chemistry full time.

This week, he started going to the office five days a week.