By Kyle Sakamoto
Advertiser Staff Writer
All season long, 'Iolani's Ianeta Lei has made coach Chris Shimabukuro look good on the softball field.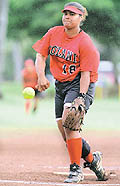 Behind the pitching and hitting of junior Ianeta Lei, the 'Iolani Raiders softball team is off to a 9-0 start in the Interscholastic League of Honolulu.

Cory Lum • The Honolulu Advertiser

Off the field, she enjoys making him look bad.

"I like to play jokes on the coach because he's funny and he goes along with it," Lei said. "He takes it like a man. We like to tease him because he's so short. He reminds me of a leprechaun."

All kidding aside, Lei is a big-time softball talent. With the help of her arm and bat, the two-time defending state champion Raiders are off to a 9-0 start heading into today's showdown with 8-1 Kamehameha at 'Iolani. The Warriors' lone loss was to the Raiders on Dec. 13.

On Wednesday, Lei displayed her two-way talents in a 7-2 victory over University High. She pitched a five-hitter and batted 2-for-4 with a homer and four RBIs.

"Ianeta for us this year has been our most solid performer both offensively and on the mound," Shimabukuro said. "Even though she's a junior, she really shows a lot of leadership and takes control of the team."

Against University High, Lei got into a bases-loaded, nobody out jam in the second inning. She escaped unscathed after a strikeout, a third-to-home force play and another strikeout.

"She never gets too high or too low," Shimabukuro said. "She's always at a nice even emotional level. Whether it's nobody on base or a pressure-packed situation, she always pitches within herself."

Said Lei: "I throw everything and I try to keep the hitters off balance. Sometimes if I know the batters, I throw to their weak spots."

In the next inning, she belted a two-run homer to left field. In the sixth inning, she drove in two runs with a single to center field.

Lei, who is the only underclassman among 'Iolani's four team captains, plays third base when she's not pitching.

"She's really focused on the field," said 'Iolani catcher Tricia Sakamoto. "She has control and movement. We've developed a kind of bond."

Lei is named after her mother, Janet. Ianeta is Samoan for Janet.