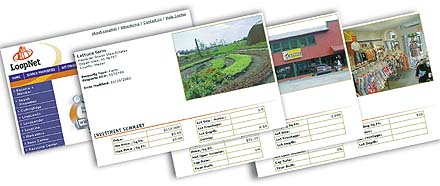 LoopNet, an online real estate listing firm, has given many Hawai'i properties global exposure.

Images from www.LoopNet.com
By Andrew Gomes
Advertiser Staff Writer

Brokers representing buyers and sellers of commercial real estate in Hawai'i typically have done business without the multiple listing services routinely used in the residential industry.
That's changing.
Over the past five years, a San Francisco company that grew from a used-furniture business to a real estate industry leader backed by some of the biggest national brokerage firms gradually has interested Hawai'i's commercial real estate brokers in an Internet-based listing service called LoopNet.
The exchange, which accepts free listings and is available to the public, has attracted a critical mass of use that is turning the site into a de facto multiple listing service for Isle commercial properties.
About 40 Hawai'i-based commercial real estate companies participated in the service last month, listing about 500 properties for sale or lease. The listings ranged from a $110,000 lettuce farm to a $150 million hotel.
It is difficult to calculate how much of the available commercial property in the state is on LoopNet, though local brokers put the figure at 75 to 90 percent for openly-marketed sites for sale.
What is certain is that LoopNet is enhancing sales of Hawai'i property by connecting out-of-state buyers with local real estate service providers, local buyers with Mainland property sellers and local buyers with national lenders.
"What LoopNet is doing is opening up the market," said Steve Sofos, president of Sofos Realty Corp. "It's becoming the multiple listing service of commercial real estate for Hawai'i."
In the loop
LoopNet's database is searchable by region, property type and price. Brokers can post listings with pictures and maps for free. Also available is a fee-based service ($74 to $899 a month) with advanced features, including licensing LoopNet's technology to run a real estate firm's Web site.
Small brokers say the service puts them on a more equal level with larger firms when it comes to global, classified-style marketing. Large brokers say that using LoopNet technology to run their Web sites helps draw business.
Sky Reynolds, LoopNet's regional manager for Southern California and Hawai'i, said use has reached a critical mass in the last four to six months as growing numbers of smaller firms have logged onto the site, and bigger firms have increased use. The last of Hawai'i's dominant firms, CB Richard Ellis Hawai'i Inc., signed on last summer.
"I think a year ago Hawai'i had not reached its critical mass on LoopNet," said Reynolds.
Reynolds, who was born and brought up in the Islands, now is trying to sell LoopNet's service to large landowners such as Campbell Estate, Victoria Ward Ltd. and Alexander & Baldwin Inc.
Slow to change
That Hawai'i commercial brokers only recently have embraced use of an online listing service on a wide scale isn't much different from the national trend in commercial real estate, one of the last industries to exploit use of the Internet.
Brokers traditionally have kept listing information out of public view and resisted Internet listings until competitive pressures required it.
"You had a chicken-and-egg situation," said Leonard Spoto, LoopNet's director of strategic alliances. "Nobody wants to put properties on the exchange before everyone is on."
At the same time, many brokers remained entrenched in old ways of doing business, according to Spoto. "When I started, the brokerage community was scared of the Internet. Four years ago brokers would say, 'I don't have a computer. Why would I need LoopNet?' "
Among the first in Hawai'i to use LoopNet was Chaney, Brooks & Co. The company's president and chief executive officer, Ron Teves, said he recognized that property sellers and lessors stood to earn higher returns through the broader marketing and quicker transactions that the Internet makes possible.
"The ability is to globally expose the property within hours of an engagement," he said. "We knew that the consumer was going to want that. We knew that (Internet marketing) was the future of real estate."
However, both Spoto and Teves note that the Internet isn't right for every property. Many small properties available for lease, for instance, do better with window sign ads while properties in tight real estate markets tend to prefer minimal marketing. In San Francisco, for instance, "all you have to do is put a sign on your building, and it's sold or leased."
Reynolds said about 450,000 users click onto LoopNet listings every month, and stay on the site an average of 26 minutes.
For many Hawai'i users, LoopNet is a powerful media vehicle that brings the geographically distant Islands closer to the international scene.
"It's akin to placing an add in The Wall Street Journal — a free ad," said Que Martyn, owner of Quality Real Estate in Kiihei.
Martyn, who started using the Internet for business in 1995, has placed listings for a $150 million hotel and $20 million golf course that he said he's been trying to sell for a Japanese owner for about a year on LoopNet. While he does not attribute any sales from his presence on LoopNet, other do.
Sofos, for instance, figures that last year he used the service to lease 60,000 square feet and sell $12 million of property, including the Veterans of Foreign Wars building in Kaimuki, which he said sold in one day.
Mike Furutani, an individual broker of industrial property, said he used LoopNet to lease a Halawa warehouse to a Mainland fire equipment services company. The transaction was completed entirely through e-mail.
"I get a lot of calls," he said. "People go on the Internet and somehow find their way to LoopNet. It's great. I put all my stuff on it."
Beside brokers, other real estate service providers are tying into the service, including Title Guaranty of Hawai'i, an insurance company.
"We're taking a more global attitude about the business even though we are more regional," said Mary Morton, Title Guaranty's marketing manager. "We found that we had to market our products and services outside of the state."
No local financial institutions are listed. LoopNet loan originator Michael Shin, another kama'aina, said that's understandable.
"They feel any Hawai'i buyer is already going to come to them. They're the only game in town," he said. "People in Hawai'i don't have access to money on the Mainland. If you don't have connections to J.P. Morgan, (Goldman Sachs & Co. subsidiary) Archon, John Hancock ... you're stuck with the same banks. There's limited competition."
About 40 Mainland lenders are active in LoopNet's loan origination program, which charges lenders to participate. Launched in May 1999, the program has originated 39 loans totaling $56.4 million. The program last month originated its first Hawai'i loan.
Potential to grow
LoopNet was founded in 1995. One of Spoto's first assignments with his used furniture business was to assemble second-hand desks for himself and others. The firm received a major boost about a year ago when several commercial real estate firms — including Grubb & Ellis, Trammell Crow Co. and Marcus & Millichap — invested $20 million and became part owners.
Now, like other Internet firms, it faces stiff competition. Nevertheless, some believe the company is still in its infancy. Andrew Friedlander, chief executive officer of local commercial real estate firm Colliers Monroe Friedlander and a LoopNet supporter, said, "I think we're only starting to scratch the surface of the direction we're going."