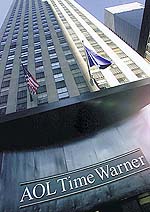 The new 3-foot-high brass letters were placed on company headquarters in New York at 3 a.m Friday, just hours after federal regulators approved the $106 billion merger. See story.

Associated Press photo
Hawai'i real estate trade globalizes
An Internet-based listing service called LoopNet has attracted a critical mass of use that is turning the site into a de facto multiple listing service for Hawai'i commercial properties.

AOL Time Warner to 'hit ground running'
For those who know AOL chairman Steve Case best, the boldness of the merger was not surprising. They have watched Case create a vision of an online world and cling tenaciously to it as the company fended off crisis after crisis.

Probability of recession disputed among experts
Recession talk is picking up steam on Wall Street for the first time in a decade. But opinion is split on whether the economy is going down the tubes or will continue to grow, but more slowly.
Coming Events