The top 10 global mergers

Advertiser Staff and News Services

Call it a sign of the changing times.

As the sun rose the morning after the creation of the nation's newest — and largest — media company, workers already had changed the sign outside AOL Time Warner headquarters in Rockefeller Center.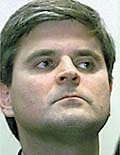 AOL chairman Steve Case is now head of the largest entertainment company in the world.

Advertiser library photo

The new 3-foot brass lettered "AOL Time Warner" sign was added to the building at 3 a.m. Friday, just hours after federal regulators approved the $106 billion merger.

"We wanted to do it as fast as we could, because the new company is going to hit the ground running, and there is no better way to symbolize that," said spokesman Ed Adler.

Executives from the newly combined AOL Time Warner Inc. went right into champagne-popping mode Friday, ringing the opening bell at the New York Stock Exchange, beaming before TV cameras and unveiling the new sign installed overnight at corporate headquarters.

For Hawai'i-born Steve Case, it's been a swift ascent from Punahou School to chairman and chief executive officer of AOL, the world's largest online service. For Case, who as a child used to sell seeds and greeting cards door to door and by mail from his family's Honolulu home, the merger with Time Warner is his biggest deal ever.

Case, 42, is now chairman of the largest entertainment company in the world, a Hydra-headed conglomerate that merges all the elements of traditional media with the Internet.

It has been a 20-year struggle to reach this point, with Case battling to keep his company afloat, often seeking help from corporate partners.

Case doesn't fit the part of the gray media mandarins who chair Viacom Inc., Walt Disney Co., News Corp. or, for that matter, Time Warner Inc., which AOL took over.

But for those who know him best, the boldness of the merger is not surprising. Indeed, they have watched Case create a vision of an online world and cling tenaciously to it as he and others in the company fended off crisis after crisis.

Amid it all, he has kept his connections to Hawai'i, and in recent months has made several Island investments, including the purchase of Kaua'i's Grove Farm and a controlling interest in Maui Land & Pineapple Co.

Still, there's no escaping the fact that the merger that closed Jan. 11, 2001, faces a different world than the one announced Jan. 10, 2000.

As executives waited that year for federal approval, a stock slump shrank the value of the deal from $165 billion to $106 billion. Slower ad growth is now threatening several core businesses, and expectations have been scaled back for how quickly new services such as interactive TV will be introduced.

Nonetheless, industry experts remain convinced that the driving premise behind the merger — combining the Internet with traditional media — is still sound. And in an era where clout counts, a behemoth the size of AOL Time Warner is best positioned to take a leading role in bringing the worlds of old and new media together.

Consumers are likely to see the first effects as the company brings more of Time Warner's large array of media properties online. AOL's sports sites can draw on material from Sports Illustrated; AOL's music sites will have access to the Warner Bros. music library; and news sites can draw on Time magazine and CNN.

But Christopher Dixon, media analyst at UBS Warburg, said the real challenge for AOL Time Warner lies in creating entirely new ways of packaging and delivering media online that will entice both consumers and the advertisers who want to reach them.

The company's goal will be to "develop new businesses that we can only begin to think about," such as delivery systems for music, video and TV programming over high-speed wires, Dixon said.

"If they can come up with a new way to deliver music in a very convenient method, it will be like introducing Windows and Lotus 1-2-3 to a world that only knew DOS and VisiCalc," he said.

The company has been promising to develop exactly those kinds of services, but so far no specific plans have been announced. Jerry Levin, chief executive of AOL Time Warner, said in an interview that one of the projects being developed is a kind of video subscription service where viewers can pick out programs — such as HBO shows "The Sorpranos" and "Sex and the City" — to view when they want.

Once in place, that kind of delivery model could be applied to other forms of media, such as music, movies and print. The idea is to exploit AOL Time Warner's relationships with millions of customers who use subscription-based services such as AOL, magazines and cable TV.

"This is a company that will be subscription-based," Levin said. "If you can enhance the acquisition of those subscribers, you can upsell (premium) services, sell access to those subscribers to people called advertisers and deliver content to them."

Yet, even while it looks to the media of the future, AOL Time Warner has some hard business realities to deal with now. CNN, whose ratings have been sinking, is said to be laying off hundreds of workers; the struggling WCW wrestling unit was sold off this week; and last month Time Warner said poor box office and music sales would drag down its yearly results.

A profit warning in mid-December caught investors by surprise, and they punished the company's stock. While the shares have since recovered, the new management team is going to have to work hard to convince investors that it can still deliver big profit gains.

Jessica Reif Cohen, an influential media analyst at Merrill Lynch, warned investors in a note last week that the company faced a "sluggish" fourth quarter due to slowdowns in its movie and music businesses and slower advertising. She also said that because of the sudden profit warning, "confidence in the combined management team has been damaged."

The company has not yet offered a detailed view of how it expects to achieve all the cost savings and revenue gains as a result of the merger, but it expects to do so at its first Wall Street presentation at the end of this month.

Until then, many analysts are willing to give the new team time. "Given what they're planning to do, I'm willing to listen," Dixon said.