By Victoria Gail-White
Special to The Advertiser
Have you ever wondered where the phrase "It's raining cats and dogs" originated? Rochelle Lum wondered until it became the inspiration for her solo show at the neighborly bibelot gallery in Kaimuki.
It's raining cats and dogs
bibelot Gallery
Through Feb. 2
738-0368

The centerpiece of the exhibit, a small sculpture of a cat and a dog holding umbrellas, began Lum's tamed safari into more than two dozen hollowed-bodied, hand-built forms of mostly life-size animals that charm the pedestals, walls and tansu chests.

"I wanted to do a series of animal pieces doing human things," said the artist. "Pua," a pot-bellied pig with a plumeria lei around its belly, was inspired by a friend's pet, which enjoys wearing leis and performing for carrots.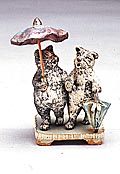 Artist Rochelle Lum imagines the cats and dogs she creates in stoneware doing some very human things.

That Lum is an animal lover is evidenced in the facial expressions of her clay menagerie. "Some of the children actually lean over to kiss the animals," she said.

Her stoneware work is somewhat whimsical, but the two months of conception time is not. The glazes vary from raku to high firestoneware and are done in electric and gas kilns. The sculptures begin as slabs, coils and pinch pots and emerge from Rochelle's memory and imagination.

There are also three teapots on exhibit. One, a "Japanese Crane," is the only bird in the show.

Very healthy cats, pigs, monkeys, dogs, rabbits, fish and owls call for attention.

"I have always loved animals for their imagery," said Lum, who teaches at the Academy Art Center at Linekona. "They're the universal images of children's and folk tales."

By the way, one source for the phrase "raining cats and dogs" is 17th-century England, where heavy rainstorms turned the streets into raging rivers that swept away many dead cats and dogs.