Hawaiian Humane Society
---
"The further I travelled through the town the better I liked it. Every step revealed a new contrast . . . disclosed something I was unaccustomed to. In place of those tiresome everlasting goldfish, I saw cats.
"Tom cats, yellow cats, striped cats, spotted cats, tame cats, wild cats, singed cats, individual cats, groups of cats, platoons of cats, companies of cats, regiments of cats, armies of cats, multitudes of cats, millions of cats, and all of them sleek, fat, lazy and sound asleep. There are just about cats enough for three apiece all around."
— Mark Twain,
Letters from Hawai'i, 1861
---
In case you thought the abundance of cats in Hawai'i was a new phenomenon, note the date of Mark Twain's quote. It is not known when the first cats arrived in Hawai'i, but we know they were present in the Islands in 1809. That's when Archibald Campbell visited the Islands and noted the use of the word "popokee," as he spelled it, as Hawaiian for cat.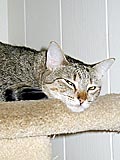 Cleo, once a feral cat, was adopted as a kitten from the Hawaiian Humane Society by Suchi Psarakos. Feral cat caretakers, the Humane Society and many others are working together so that all cats in the Islands eventually will have a home.

Suchi Psarakos

Cats were kept as pets and also roamed the Islands at will.

Cats are still very popular in Hawai'i; there are approximately 150,000 owned cats just on O'ahu. There is no way to calculate how many unowned cats there are, but it certainly falls into the "multitudes of cats," as Twain noted.

There are at least 1,591 people on O'ahu who give time and energy to helping homeless feral cats.

You've probably seen colonies of cats in parks, on school campuses, near warehouses or in vacant lots. Sometimes there are just two or three, and sometimes more like 15 or 20. You are less likely to see the people who are caring for them, because it is safer for the cats to be fed after dark, when there are fewer people around.

The 1,591 caretakers who have signed up at the Hawaiian Humane Society do much more than just feed the cats. They are dedicated to managing the colonies, making sure the cats get veterinary care and sterilizing the cats so the colony will not grow. Like tens of thousands of others across the country, they are committed to "TNRM," which stands for Trap-Neuter-Return-Manage. This program is not only a humane way to help reduce stray and feral cat populations, but is also very successful.

Success stories

Magic Island once had more than 200 stray cats; now there are about a dozen. The campus of Chaminade University once had 150 cats; as of May 2000, there were 50. And no kittens have been born in more than two years.

Most cats in colonies are unsocialized, have never lived in someone's home and could never be rehabilitated to do so in the future. Cat colony caretakers win their confidence by regular feedings.

Eventually, the cat becomes so trusting that it is possible to lure it into a humane trap. The cat is brought to the Humane Society, where it is anesthetized, sterilized and has microchip identification implanted. The tip of one ear (left for males, right for females) is docked so the cat can easily be identified in the future as having already been sterilized. After recovering from the surgery, the cat is returned to its home territory.

Moving the cats is not an option, for two reasons. If you take cats out of an area, others will move in; and if you put a cat in a new area, it will face life-threatening hazards and is unlikely to stay there.

Sterilization

TNRM seems to be the best method of control, by gradually diminishing the size of the colonies; the groups dwindle in size as sterilized cats live out their natural lives. There are local and national organizations that support TNRM and cat caretaker efforts. The Hawaiian Humane Society began providing free cat sterilizations to caretakers in 1993, and since then, 14,665 surgeries have been done.

Cat caretakers on O'ahu recently developed written guidelines to help bring higher standards of management to colonies around the island. These guidelines have won endorsements from legislators, city officials, veterinary clinics and humane organizations here.

Cat caretakers spend countless hours and plenty of money. They are both male and female, and come from all income groups and a variety of professions. They share a common goal and, by working together, are making great strides in solving a public problem.

Everyone can become part of this effort to reduce cat overpopulation in a humane way.
Make sure your own cat has a microchip ID or wears a collar and tag so that it can be returned to you if it becomes lost.
Sterilize your cat anytime after eight weeks of age. Low-cost sterilization certificates are available through the City & County's Neuter Now program. Call 946-2187, ext. 227, for more information.
If you can no longer keep your pet cat and cannot find another home for it, bring it to the Hawaiian Humane Society. Last year the society found homes for 88 percent of all the adoptable cats it received.
If you see a lost cat and can handle it comfortably, confine it and call the Humane Society at 946-2187, ext. 280, to arrange for it to be picked up. You can call the same number to borrow a humane trap.
If you would like to volunteer as a cat caretaker, find out more about responsible caretaking, or request a copy of the cat caretaker guidelines, call 946-2187, ext. 220.
You can support the free sterilizations offered to cat caretakers by donating to the Humane Society. Last year, Humane Society donors made more than $94,000 worth of free sterilizations possible for caretakers.
If you know of someone who is feeding cats but not sterilizing them, tell them about the free sterilization available at the Humane Society. Have them call 946-2187, ext. 285.
Since 1995, animal abandonment has been illegal in Hawai'i, punishable by up to one year in jail and a $2,000 fine. Abandoning a pet is not only inhumane and cowardly, it is against the law. If you witness animal abandonment, call 946-2187, ext. 280 (24 hours a day). Make note of any details that might help identify the person committing this crime.