By Heidi Bornhorst
Special to The Advertiser
It is one of the bright, gorgeous flowering plants that bloom in the winter to brighten our sometimes dreary, gray and wet days. It has bright, large, powder-puff flowers in shades of bright red, pink or clear white.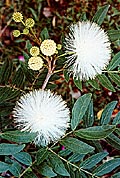 The flowers of the lehua haole open into a power-puff shape. There are several varieties, producing different colors, in the Islands.

Heidi Bornhorst

This bush or small tree comes to us from that plant paradise, Brazil. It is properly called lehua haole, though you often hear it called haole lehua.

Scientists call the plant Calliandra inequilatera and place it in the bean family, Fabaceae. In Greek, "Calliandra" means beautiful stamens. Stamens are the male part of the flower, and in the haole lehua that is the main, powder-puff part you see.

There are more than 100 species of Calliandra in the world, and several have been brought to the Islands. There is a California native one with a common name I just love: "Baja Fairy Duster," known to scientists as Calliandra californica. There is a delicate, pink and white one that grows on a larger tree. You can see this in older gardens.

I have been trying to find out if you could cultivate ones that open at different times of day. It seems that most open in the morning. While they make spectacular night-time hair ornaments, the blossoms are not as perky then.

Our old neighbor in Makiki, Miss Zane, had a well-shaped plant that I loved and which inspired me to grow one of my own. She had her beloved plant pruned in the same shape as the flower. The trunk of the tree was shaped like the flower stem, and then the plant puffed out in a big wide circle just like the flower. I admired it for years (Miss Zane was a great gardener in general, and her whole garden was a place of wonder to us neighborhood kids). I loved to pick the flowers as a rascally high schooler, though she didn't appreciate that much.

My good friends, the Zane family (not related), are famous for their Hawaiiana knowledge and fabulous flowers and lei. For Mari Zane's 19th birthday, I wanted to make a fabulous and unique lei as a gift.

I knew that haole lehua in brilliant red would be perfect, if only I could get enough flowers. Amazingly, between Miss Zane's tree (I got her permission for the occasion) and mine, there were just enough blossoms. Mari loved the lei; come to think of it, her birthday must be coming up soon, as the lehua haole always blooms for several months at this time of year.

This is an easy plant to grow. You can pick up a large plant from your favorite nursery or garden shop. You can grow one of your own from seeds or by digging out a root sucker. Since the haole lehua is in the bean family, the seeds are in pods and look like flat beans. They sprout quickly and grow pretty fast.

They do look like our native Hawaiian 'ohi'a lehua — at first. But lehua haole has a much bigger, rounder and softer pompom of a flower. The leaves are arranged in a feather shape (which experts refer to as "pinnate") and the pods that follow the flowers are definitely bean pods.

Lots of people misidentify the two plants. For example, there is a mysterious, elusive white version of 'ohi'a lehua. Some people claim to have found it — in a Kapahulu garden, for example. When I hear these reports, I always check them out, since you never know. Besides, I love to see the ins and outs of people's yards, although inevitably it turns out to be a haole lehua in its white form.

You even see photos of haole lehua in local magazines that are identified as 'ohi'a lehua.

When I wear the pompoms in my hair in the winter, I laughingly call them my "ear muffs." Some people scold and accuse me of making it rain. "No, no,"

I laugh. "Picking this blossom makes it rain in Brazil!"

When we moved to Wahiawa nine years ago, I brought along two root sprouts that I had dug up from Makiki and stuck them in the soil. The plants flourished (Wahiawa is great for gardening), and we eagerly awaited their first winter of blooming. At the time, I was sad that both of them turned out to be white.

However, they are so full and splendid as they grow in the winter landscape, pure and white against the velvet red of an old hapa Hawaiian hibiscus and offset against old-fashioned, brilliant red hedge-type poinsettia. When I wear these striking blossoms in my hair, I seem to meet fun and interesting people, since the blooms are such an invitation for conversation.
---
Heidi Bornhorst is director of the city's botanical gardens — Foster, Lili'uokalani, Wahiawa, Koko Crater, Ho'omaluhia. Write to her care of The Advertiser Homestyle section, P.O. Box 3110, Honolulu, HI 96802. Or e-mail her at islandlife@honoluluadvertiser.com.