By Eunice Geston Fukunaga
Special to The Advertiser
For years, Devin's idea of a "nice" dinner consisted of a cozy booth at Zippy's (restaurant side, of course). On the other hand, my list of nice restaurants included establishments such as Philip Paolo's, Nick's Fishmarket, Prince Court and Hy's.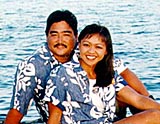 Eunice Geston Fukunaga never thought laid-back husband Devin would have made their engagement memorable. He proved her wrong.

I guess you could say I got accustomed to his "local-boy" style, but I secretly longed to be wined and dined by this "local-as-you-can-get" guy. He doesn't enjoy dressing up, and would prefer to go to dinner in a comfortable tank top, baseball cap, athletic shorts and rubber slippers. His attire is so recognizable that once he was recognized instantly by one of his friends strictly because of his clothes (or lack of it) even while it was in 45- to 50-degree weather as we went from casino to casino in Las Vegas.

Devin and I had been discussing the idea of marriage for a while, and I must admit, although he is a sweet guy, I always thought he lacked the creativity to make our "official" engagement memorable and exciting for the both of us. I had visions of him in his favorite tank top and Dodgers cap, sitting across me in a booth at Zippy's, tossing me a jewelry box, saying, "Here, try it on."

Boy, was I wrong.

It happened on Friday, Oct. 8, 1999, at the Waipahu/Leilehua high school football game. He was still one of the football coaches for Waipahu at that time.

During halftime, I walked down from the announcer's booth, where I assisted the Waipahu football team by taking statistics at every game.

Before the game, Devin had sent a message up to the press box for me to meet him on the football field at halftime. I thought we were headed for the restrooms, so we slowly walked across the football field.

Suddenly, I heard my name announced on the loudspeaker. I thought the announcer (who was a friend of ours, as well as a fellow teacher at the school) was just trying to tease me, so I stood there and waved at all of the fans sitting in the stands.

Then I heard him say over the loudspeaker, "Devin has a very important question to ask you."

Before I knew it, Devin had my hand in his, and was down on one knee. There, in front of all the football fans, he proposed and placed a beautiful diamond ring on my finger. To my added surprise, I turned to see my sister along with some of my friends on the sidelines, there to wish us luck. Devin had the whole thing planned for two weeks.

Yes, he took the time to coordinate and plan something special like this for me. I even found out later from my friends that the whole thing was his idea. I was speechless. All of this from my "Zippy's guy." It did take a lot of guts on his part. I mean, what if I said "no"?

Of course I said "yes," and apologized profusely for underestimating him.

So on June 10, 2000, he once again took my hand in front of a crowd, in the middle of Bishop Museum. Amidst all the Hawaiian artifacts and displays, there was such a strong sense of spirituality and sacredness. I couldn't think of a more appropriate setting for our wedding ceremony, when I happily married my best friend.

Eunice Geston Fukunaga sent in this story topped with the title, "Women: Never Underestimate Your Mate." She and her husband live in 'Ewa.
---
Do you have a great love story? What are your best stories or advice on marriage and making the magic last? Do you have a story from your wedding or wedding-planning advice? Send your letter of 500-750 words with your city and phone number to: For Better, For Worse, 'Ohana Section, The Honolulu Advertiser, P.O. Box 3110, Honolulu, HI 96802; e-mail ohana@honoluluadvertiser.com; fax 535-8170. Sending a photo is optional.