By Orange County Register
A review of new movies from a family perspective
'Finding forrester'
(PG-13)
Best for: mature teens to adults.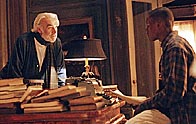 Finding Forrester traces the unique relationship that develops between eccentric, reclusive novelist William Forrester (Oscar-winner Sean Connery, left) and the young, amazingly gifted scholar-athlete, Jamal.

Columbia Pictures
What it's about: Jamal (Rob Brown) is a talented 16-year-old who dreams of a better life and home outside his South Bronx neighborhood. Then, Jamal discovers that a mysterious man in his neighborhood turns out to be reclusive best-selling author William Forrester (Sean Connery).

Jamal shares his love for writing and persuades Forrester to help him succeed in an academic world that doesn't approve of him. Forrester relies on Jamal's strength to help him escape the prison he's made for himself in his own home. The two learn valuable lessons from each other that affect the rest of their lives. F. Murray Abraham, Anna Paquin and Busta Rhymes co-star.
The good: Rarely do we get to see Connery portray a character who has fears. In this role, his character has a weakness that almost cripples him, and Jamal helps him overcome it. Brown delivers a solid performance, skillfully crossing back and forth between Jamal's life in the 'hood and his academic quest for a better one.
The dialogue is witty, the subtle moments strong, and the dynamics between the two (talking about their fathers and how they were raised) should connect with the audience.
The not-so-good: This is a movie with adult themes — drinking, racial issues, discussions about sex, poverty, overcoming circumstances — that are acceptable for mature teens and older kids who can handle them. Language is the biggest drawback that prevents it from being acceptable for young pre-teens.
Offensive language: Lots of crude language, cursing, a few religious profanities and street dialogue about girlfriends.
Sexual situations: none. It's hinted that one of the white female characters has an interest in Jamal, but racial issues (her father wouldn't accept it) keep that from developing.
Violence: none.
Parental advisory: The message about the importance of education and achieving your dreams and goals in life — no matter the costs — makes this an excellent, motivational movie for teens.
Entertainment value: A-