By Ann Miller
Advertiser Staff Writer
KAPALUA, Maui — That thud you heard yesterday afternoon was Rory Sabbatini's eagle approach diving into the Plantation Course's 16th hole about the time Ernie Els was returning to golf planet earth.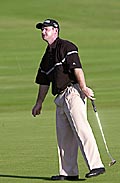 Rory Sabbatini tried to coax his birdie putt into the hole on the 18th green. He missed, but shot a 65 to take a two-stroke lead in the Mercedes Championships.

Gregory Yamamoto • The Honolulu Advertiser

In a wet, wild and weirdly windless third round of the Mercedes Championships, Sabbatini — who is even younger than Tiger Woods — shot an 8-under-par 65 to vault over a bunch of older guys.

Going into today's final round, Sabbatini, 24, is 16-under par and two shots ahead of Masters champion Vijay Singh, who birdied his last four holes to shoot 67. Els (73) and Jim Furyk (69) — who birdied four of his last five — are four shots back. Woods, the man of seemingly every PGA Tour moment, shot 68 and trails by eight.

Sabbatini qualified for this winners-only event by capturing his first tournament last year at the Air Canada Championship. Sundays were not always so kind. While Sabbatini had the PGA Tour's 12th-best scoring average in the third round, his final-round average ranked 138th.

That might be the only glimmer of hope Els, No. 2 in the World Golf Ranking, can glean from yesterday. After finishing the front nine with four consecutive birdies to reach 16 under — a total that was good enough to get him into a playoff with Woods last year — Els played the final seven holes in four over.

The par-5s were particularly painful; Els hit into hazards on both and played them in three over. His four-shot advantage over Sabbatini at the turn transformed itself into a traumatic four-shot deficit.

"My concentration was not what it should be," said Els, who played junior golf with Sabbatini's older brother in South Africa. "At one point it looked like I might run away with it. I felt good. I was hitting shots, hitting the right clubs. One hole (a three-putt bogey at No. 12) took it out of me. Other times I would have just forgot about it. This was unforgivable."

Sabbatini's words were also from the heart, but hardly the astonished phrases you might expect from a guy ranked 84th in the world.

"It's pretty amazing I'm ahead of half the people I am," he said.

Sabbatini spoke soberly of a recent event that caused him to "make changes in my life," renew his faith and mature. He would not elaborate — saying one of the changes was to not be so open about his private life — but by the end of his interview he was nearly in tears.

"If I don't make a putt or a birdie or whatever, it's not the end of the world," Sabbatini said. "There's another 400 million people in the world that don't care. ...

"It's time for me to grow up and be a bastion for the tour. We have this great privilege of being out here, have this opportunity to do things for less fortunate people. I need to take on that responsibility, accept it, realize it, really try to do the best I can with it.

"(If) I shoot a hundred ... I'm going to come out with the same approach: I had three great days, I had a lot of fun. I had fun interacting with the crowd, getting to know a few people that a year ago I wouldn't have cared to know about."

While his answers begged more questions, his game yesterday left little doubt. Sabbatini had six birdies and no bogeys going into the 16th hole, where he grabbed a sand wedge and, from 96 yards away, lofted the ball just past the pin. It spun back into the hole for eagle and his first-place cushion.

Singh saw Sabbatini light up the scoreboard, then blew by Els in the final four holes. Singh, adjusting to the wet and suddenly slow greens, had a two-putt birdie on the 15th, sank a six-footer on the next hole and drained 20-foot birdie putts on the final two.

"I was seven down with eight to play and finished two ahead (of Els)," Singh said, shaking his head. "The chances of that are pretty much never. Ernie was playing pretty good. Never looked like he was going to mis-hit a shot. Then he hit two bad drives. Hit a bad drive on 15, where everybody was making birdies and eagles. Hit a really bad drive on 18. When you start forcing things, that's what happens. That's pretty much what I didn't do."
SHORT PUTTS: Paul Azinger, who will defend his Sony Open in Hawai'i title next week, played Nos. 6-10 in six under and was tied for second at 13 under after 14 holes. But he also hit into the hazard on the 15th, resulting in double bogey. ... David Duval, the 1999 Mercedes champion, matched Rory Sabbatini's 65 and moved into ninth place. Last year, Duval was 11 under on the weekend to pull into third place. ... All 33 players shot par or better yesterday. The scoring average (69.672) was almost two strokes better than Thursday. ... In his PGA Tour career, Sabbatini has never led after 54 holes.