To hear or not to hear: deafness as a gift
Defining of deaf culture begins with language
By Mary Kay Ritz
Assistant Features Editor
"Sound and Fury," a documentary directed by Josh Aronson, looks at one of the most controversial issues in the deaf community.
'Sound and Fury'
7:30 p.m. Monday-Wednesday, 11 a.m. Wednesday
Honolulu Academy of Arts theater
$5 ($3 members); 532-8700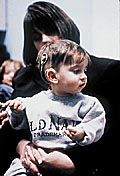 Peter Artinian (being held by his mother, Mari) was given a cochlear implant.

Photo by Joseph Sinnott

Heather Artinian's parents and both her brothers are deaf, as is she.

Her father, Peter Artinian, is an outspoken opponent of cochlear implants, medical devices that attach to the cochlea and allow the deaf to pick up auditory impulses. He softens only when his 6-year-old daughter says she wants one.

Afraid that their daughter will reject their deaf culture and the language of their home, Peter Artinian and his wife fear Heather will be mainstreamed into the hearing world and their family will become divided.

Meanwhile, Peter Artinian's hearing brother, Chris, discovers that his newborn, whom he and his wife name after their deaf brother, is deaf.

The documentary, called "a work of intimate and wrenching humanity" by Entertainment Weekly, immerses viewers into the fierce interfamilial battle as each side takes very different but completely justifiable stances on the subject.