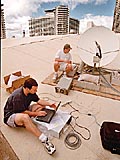 Don Buchman, rear, and Daryl Hunter took the tools of technology to the top of the Hilton Hawaiian Village yesterday in preparation for the Pacific Telecommunications Conference, which begins today. See story.

Jeff widener • The Honolulu Advertiser
Continental boosts Isle service
Continental Airlines plans to nearly double non-stop service from its hub to Hawai'i this summer, adding a second flight from Houston to soak up expected demand.

Telecom council raises local profile
This year, thanks to improved public relations and a burgeoning local telecommunications sector, the Pacific Telecommunications Council's annual conference has attracted more local attention than ever before.

Markets closed today
U.S. financial markets are closed today in observance of Martin Luther King Jr.'s birthday. Financial markets in other countries are open.