By Wayne Harada
Advertiser Entertainment Editor
An Elvis as you've seldom seen him — as a playful, hang-loose, fun guy — is revealed in tonight's "Elvis: That's the Way It Is — Special Edition," airing on the Turner Classic Movies cable channel. It's a world TV premiere of a completely updated and remastered concert film from the 1970s.
'Elvis: That's the Way It Is — Special Edition'
5 and 7 p.m. tonight; additional screenings at 5 p.m. Jan. 21 and 8 a.m. Jan. 27
TCM Turner Classic Movies, a premium channel; Oceanic 64 (analog) and 602 (digital); Verizon Americast 77

The movie, an MGM theatrical release three decades ago, focuses on Elvis Presley's return to the Las Vegas concert stage (at the then-International Hotel, now the Las Vegas Hilton), following a string of films. It takes you behind the scenes, beyond the makeup and behind the stardust, and depicts Elvis both as a dedicated show trouper and an intensely creative artist.

Completely re-edited from beginning to end by Rick Schmidlin, "Elvis" is notable for the revelations about a side of the King not commonly seen. You witness his backstage goofiness, get a sense of his natural creative ability and are drawn in by the intimate close-ups that yield a candid, telling portrait of a pop music icon you thought you knew everything about.

You'll be surprised.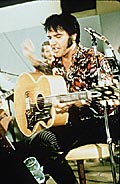 The Las Vegas concert documentary also shows Elvis Presley behind the scenes. lt has been re-edited from the 1970s version.

Turner Classic Movies

The three-decades-old material appears fresh, deriving its power from the little elements that define Elvis' creative process. In a rehearsal for a recording session with background singers the Sweet Inspirations and the Imperials, he demonstrates his trademark "TCB" — what he and his handlers dubbed "taking care of business" — by giving the singers precise instructions on how the vocals should be shaped.

Yet Elvis the Pelvis is here, too. He's a toe-tapping soul man as he strums his guitar. On stage, his gyrating left leg and karate kicks are explored and exploited; 10 never-before-viewed tunes have been inserted here.

Elvis comes off as a sincere communicator, not only with his band, but with his audience.

And as big a star as he was, he still encounters the pre-show butterflies. "I just hope I don't forget the words," he mutters backstage.

Throughout the film, you realize how much the camera loves him.

About 20 tunes are featured, with material culled from six tapings. The joy is in the performances, with "outtakes" of

such numbers as "The Wonder of You" and "In the Ghetto."

For Hawai'i fans, Elvis' "Can't Help Falling in Love With You" (from "Blue Hawai'i") is here as the concert finale — one of his international signature tunes.

And the end-credits tune, "Are You Lonesome Tonight?," is a fitting postscript for a man who put his mark on pop music and yet never seemed to find peace in his own life.