Associated Press
NEW YORK — When Sidney Lumet began his directing career at CBS a half-century ago, television was even younger than he was.
'100 Centre Street'
7 tonight
A&E cable channel

He stayed in TV for a decade, his last productions airing when Ronald Reagan still hosted "G.E. Theater."

Then he went on to make nearly four dozen theatrical features, including "The Verdict," "Dog Day Afternoon," "Fail Safe," "Serpico" and, of course, "Network," his grand collaboration with Paddy Chayefsky skewering the television industry.

Now Lumet is back. "100 Centre Street," his new weekly courtroom drama, premieres tonight at 9 p.m. EST on cable's A&E network. The two-hour series opener (which Lumet directed and wrote) picks up with assurance from where he left TV drama circa 1960.

Meanwhile, he seems personally immune to the passage of time. During a recent interview in his Queens production office at Kaufman-Astoria Studios, Lumet radiates, at 76, "an absorbing, warm, menschy vitality" (as one fan has written about his work).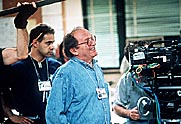 Sidney Lumet on the set of "100 Centre Street," his weekly courtroom drama premiering tonight on the A&E network.

Associated Press

Network television should have aged so well.

"It's a coincidence," says Lumet in explaining his return to TV. "Two things came together."

The first thing was an offer from NBC to write a pilot script — which, after NBC turned it down, A&E liked enough to solicit 13 episodes.

As with many of Lumet's films, "100 Centre Street" is set in the legal arena. It gets its title from the address of Manhattan's Criminal Courts Building, where, during night court, the system endures an impossible caseload with 90-second verdicts and, too often, justice gone awry.

"I'm not a propagandist," Lumet says, even as he proudly owns up to his liberal leanings. "To me, it's important that I find something out about people. And if the story tells you a little bit about that person, then it's gonna tell you about that time and its issues, almost automatically. You don't have to reach."

A splendid cast helps. Playing a willfully compassionate judge, Alan Arkin is joined by LaTanya Richardson as a judicial colleague who is tough as nails. Paula Devicq, Joseph Lyle Taylor and Manny Perez play spirited, sometimes fumbling young attorneys.

Also worth noting about "100 Centre Street": However frantic the pace of the characters' lives, the series' own tempo holds steady. Scenes unfold with due fullness. Dialogue is lush. The show may have a "filmic" look, but the feel is that of live TV drama.

No wonder. Lumet directed hundreds of live broadcasts in the 1950s — episodes of "Danger" and "You Are There," "Studio One" and "Playhouse 90."

But that kind of live TV is dead. Lumet says he wasn't disappointed when NBC nixed his new series. He wasn't eager to apply the cumbersome filmmaking process to TV, even with A&E's inducement.

Then, in a happy coincidence, he found the other thing that made TV seem attractive: a new high-density videocamera that captures on tape an even better picture than a conventional movie camera shooting film. Lumet realized he could gang three of these Sony cameras and, by switching back and forth while the action progressed, shoot the whole scene in real time.

"We went back 50 years and started using a live television technique," says Lumet with the glee of someone who has pulled a fast one. "We had multiple cameras in automobiles. I had three cameras inside a police station."

And when he wrapped the scene, he would have a finished cut.