By Ann Miller
Advertiser Staff Writer
KAPALUA, Maui — Jim Furyk's persistent excellence in paradise, and possibly his wisdom, was worth $630,000 yesterday.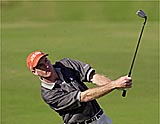 Jim Furyk has been added to tomorrow's Johnny Bellinger Shoot-Out at the Wai'alae Country Club.

Gregory Yamamoto • The Honolulu Advertiser

He won the Mercedes Championships by a shot over Rory Sabbatini, who needed a 3-foot birdie putt on the final hole to force a playoff. All that dropped was Sabbatini's face. His putt spun off the lower lip.

His parents, visiting from South Africa, raised their hands to their heads. Even Furyk looked stunned, and a little sad. Sabbatini shrugged, sank his par putt and reacted with the sophistication of someone much older than 24.

"I would have taken 33rd (last) place this week," Sabbatini said. "I've got no complaints, no disappointments. I came here, gave it my best. Unfortunately, there's one thing you can't do today and that is take away from the way Jimmy played. Jimmy played an amazing round of golf. He got himself up there early and kept himself up there. More power to him for the way he played.

"Quite honestly, Jim is an absolute gentleman. If there's anybody that could win this tournament today, other than me, I'd hope it would be him."

Sabbatini's grace under pressure was second only to Furyk, who one-putted three of the last four greens in a closing round of 6-under-par 67. He played the blustery Plantation Course in 18-under 274, winning here for the second time in six years and in Hawai'i for the third time.

"I love Maui," said Furyk, whose Hawaiian hat trick also includes the Kapalua International and Hawaiian Open. "Ever since I won here in '95, it's been my favorite spot in the entire world."

Furyk's victory yesterday gives him $9.5 million in eight years on tour, and bumped him into the Top 20 in career cash at the age of 30.

Sabbatini, the youngest golfer in this tournament of 2000 champions, closed with a 72. Ernie Els (69) and Vijay Singh (71) — both among the Top 10 in the World Golf Ranking — tied for third at 276. Defending champion Tiger Woods (69) tied for eighth — his worst finish since August.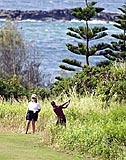 Tiger Woods hits out of the heavy rough on the ninth hole. Woods finished tied for eighth with a 280.

Gregory Yamamoto • The Honolulu Advertiser

The top four and John Huston, who vaulted into fifth with a 67, will all play at the Sony Open in Hawai'i this week at Wai'alae Country Club. Furyk will also play in tomorrow's Johnny Bellinger Shoot-Out.

Mercedes was Furyk's first tournament since he tore cartilage in his right wrist in October. He had to pull out of last week's World Match Play when his wrist was still sore. He did not touch a club for a week, and limited himself to 20 practice balls before his rounds here.

Furyk played so well on the course, and felt no pain until Sabbatini's short miss.

"You would like to win an event with a more heroic finish," Furyk said. "I definitely do feel for Rory. I've been in that situation. . . . It's a pretty sick feeling."

Moments before Sabbatini's last stand, Furyk had a 130-foot putt for eagle from off the 18th green. He left it 20 feet short, on the same line as Sabbatini. But Furyk drained what proved to be the winning birdie.

"I was really struggling to figure out what that putt was going to do," Furyk said. "I guessed right."

Furyk watched Sabbatini from the scoring trailer, driver in hand, fidgeting with his set-up and preparing for a playoff that never came. Sabbatini launched a big drive at the 663-yard, par-5 18, then hit his 6-iron nearly 250 yards to the green, 65 feet above the hole.

His first putt was three feet short — dead solid, if not perfect. His second was not.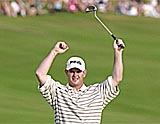 Rory Sabbatini misses a 3-foot putt on the 18th hole that would have forced a playoff with Jim Furyk.

Gregory Yamamoto • The Honolulu Advertiser

"It was on a little bit of a left-to-right slope," Sabbatini said. "The wind and grain were going right to left. I looked at it from both sides. It looked like a dead straight putt.

"You never know. . . . There's always that second thought going through your mind, that it might turn more. . . . I kind of picked it to go right center. I didn't quite trust the line. I just pulled it back to center, or even just left of center.

"I kind of knew I missed it when I hit it. . . . I wasn't stunned, not truly disappointed. I just knew I pulled it and it was like, 'Well, it doesn't deserve to go in the way I hit it.' "

Furyk caught Sabbatini by playing the front nine in four under. They swapped the lead four times on the back nine, with Furyk characterizing his 14-foot par putt on the 16th as most crucial.

Els, who led through most of the first three rounds, was the only golfer to seriously challenge them. Missed birdie putts on 16 and 17, and an approach shot into the hazard left of 18 dented his dream for a second straight year here.

"I played good enough to win this week," Els said. "I just got in my own way. I lost a bit of concentration."

He has this week to get it back, as does Sabbatini. But for now, Furyk owns Hawai'i golf.
SHORT PUTTS: Tiger Woods said he "was a little off this week," but said he wasn't that disappointed. "Overall, I hit the ball all right. I just didn't hit any putts," Woods said. "I hit too many lips. It was just a case of liprosy." . . . Only three of the 33 players finished over par. . . . David Duval (70-279), David Toms (72-280) and Dennis Paulson (72-281) all had charges derailed by double bogeys yesterday. Toms was at 16 under with six holes to play. . . . In the final statistics, the par-5 18th hole played the easiest (4.538 average strokes) and the par-3 eighth the hardest (3.098). . . . The average score at the Plantation — the PGA Tour's only par-73 course — was 70.909.