By Paula Rath
Advertiser Staff Writer
Vanna White lights up when her children enter the room. Being Mom to Nicholas, age 6 1/2, and Giovanna, age 3 1/2 (the halves are important at 6 and 3), is, clearly, her most important role.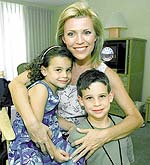 Vanna White gets a hug from daughter Giovanna, 3 1/2, and Nicholas, 6 1/2, who came along for the taping in Honolulu.

Eugene Tanner • The Honolulu Advertiser

As hostess for the popular television game show "Wheel of Fortune," which was in Hawai'i for a weekend's worth of shooting last week, White must be on the set just four days a month on the average. "I'm so lucky my job allows me to be a carpool mom, cookie baker, homework helper and school library worker," she said in an interview at the Hilton Hawaiian Village Hotel. And on this trip, she was able to bring the children along.

When at home, White said, she usually wears "sweats, bedroom slippers and no makeup."

On the air, however, is another thing. In recent months, hordes of dedicated "Wheel watchers" have noticed a new look evolving.

"I used to wear my hair up all the time but now it's getting more contemporary," White said.

"Vanna's hair is straight and sleek now; no more big hair," said her hair stylist, Cynthia Romo.

Makeup artist Sherry Whitaker added: "Right now there are no changes in her makeup, but they'll be coming soon. In another month you'll see lighter colors, a more glamorous and softer look. No drastic changes, but viewers will notice it on close-ups at the close of the show."

The most obvious changes are in White's wardrobe. Kathi Nishimoto, head of costume design and wardrobe for CBS Television, oversees White's wardrobe along with the clothes worn on the soap operas "The Young and the Restless" and "The Bold and the Beautiful," the game shows "Price is Right" and "Hollywood Squares," and "The Late Late Show" and "Politically Incorrect."

Nishimoto has to come up with 195 costumes each year for White to wear on air. There is no single designer who can produce that many looks, so she shops around a great deal. The sexy new gowns White is wearing come from Eduardo Lucero, a Los Angeles designer, as well as New York designers Bill Blass and Pamela Dennis and Germany's Escada. All told, she works with about 50 designers each year.

While gowns will always be a staple "because the viewers love them," Nishimoto said White will be wearing more pants in the future.

Along with the sexier silhouettes comes a whole new wardrobe of shoes. White used to wear standard closed-toed pumps. Now, however, "I'm wearing sexy sandals by Jimmy Choo, Charles David and Stuart Weitzman. Some are stilettos, four inches high and up. I'm having some problems learning to walk in them, but I'm getting there," she said.

And along with sandals comes another big change: "For the first time in 18 years, I'm not wearing pantyhose. I didn't even bring any pantyhose to Hawai'i," White said with a giggle.

Segue to toes. "I've gotten very daring with my toenail polish. I used to wear only pink and red, but now I wear green and blue and all kinds of crazy colors," she said.

White loves the clothes she works in while in Hawai'i. "I can wear bright, beautiful colors and pastels." she said. While taping here, Nishimoto will add custom garments by Hilo Hattie and Princess Ka'iulani to White's gown wardrobe.

White and daughter Giovanna are often seen in matching mother-daughter Hilo Hattie dresses.

Why the changes?

Nishimoto said, "We want to get people to sit up and notice and say 'Hey that's different.' "

"It's the start of a new season," White said. "And every couple of years they (the network, CBS) want to get people talking. It's fun for me to see what's new. I can't say that I like all of them, but . . ." She trailed off.

Not to worry. White doesn't get to keep her on-air clothes anyway.