This week in

Super Bowl party: Keep it simple and make it 'guy' food
Poppy seed butter flavors Italian pasta
Seafood Gumbo: spicy, hearty fare that's low in fat
Balance important in selecting wine for Asian cuisine
Roy's 21st restaurant opens
Experiment with fruit when making bread pudding
Culinary Calendar


By Joan Namkoong
Advertiser Food Editor
The flip of a switch signals the start of a vigorous hum of machines, machines that gently but efficiently roll out pound upon pound of flour and water dough into one of our most popular foods: noodles.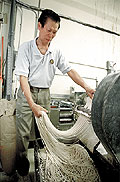 Yat Tung Chow, owner of the Yat Tung Chow Noodle Factory on North King Street, pulls noodles from a noodle-making machine after they've made the long journey that started with being just water and flour.

Richard Ambo • The Honolulu Advertiser

The soft whirring of the machines belies the quickness with which the roughly mixed dough becomes smooth and satiny, then successively thinner as the dough passes from one rolling machine to the next in a long sheet. Finally, at the cutter, Yat Tung Chow stands with his hands outstretched to catch the long strands of white Shanghai noodles as they roll from the cutting die and into a plastic tub.

It's a process Chow repeats almost every day as owner and noodle-maker of the shop bearing his name, a cramped area where stacks of bags of flour, egg boxes machinery and workers compete for space, just across the street from O'ahu Market in Honolulu's Chinatown.

The Chow family emigrated from Canton, China, in 1976. "This was the land of opportunity," said Audrey Chow, one of Chow's five children, who work in the factory along with Chow's wife, Lin Koi Lau Chow. Daughter Linda is usually at the sales counter each day, two sons help out during the week and another daughter does the paperwork.

Chow was a school teacher in Canton. He learned how to make noodles when he was employed at the now-defunct Gum Chew Lau Noodle Factory. He established his business 20 years ago.
| | |
| --- | --- |
| | Thin Chow Mein: As thin as angel hair but with a firm texture; golden brown from its steaming and dryng process. |
| | Udon: Thick white flour and water noodle traditionally served in broth by Japanese. |
| | Flat Egg Noodle: Golden in color because of its egg content; cook briefly then use in stir fried dishes. |
| | Elastic Noodle: A flat flour and water noodle that can be used in soup or stir fried dishes. A little chewy like udon. |
The machinery at Yat Tung Chow Noodle Factory, all from Hong Kong, cranks up before 6 a.m. daily. Flour, water and salt are mixed together in a machine to make the white noodle dough that becomes a series of noodle wrappers and a variety of thick or thin, flat or round noodles. Flour, water, salt, egg and potassium carbonate (salt of tartar or pearl ash) go into a variety of egg noodles. "The potassium carbonate makes the noodles firmer," said Audrey. Each day, the factory produces about 700 pounds of noodles.

Along one wall, noodle sheeters flatten and roll out the dough, feeding from one to the next in a continuous stream, producing thinner and thinner sheets. "My father says that the more times the dough passes through the sheeter, the better the texture," said Audrey who has a degree in food science from the University of Hawai'i.

At the end of the row of machines, the long sheet is mechanically folded unto itself, already dusted with tapioca flour to prevent it from sticking to itself. "We used to have to stand there and sprinkle the flour on by hand," said Audrey. She points to a small bin of tapioca flour that automatically disperses its contents over the dough as it passes through the rollers. "That saves us a lot of time."

Chow hoists the stacked noodle sheets onto a table and with precise motions cuts the sheets into won ton pi, using a long rectangle of metal as a stencil for size and a knife fashioned from a saw to cut through the multiple layers of dough.

For chow mein, the process is longer. The egg dough is cut into fine strands, then steamed for more than an hour. "This makes them darker," said Audrey. "Then we loosen up the noodles and dry them out until they are crisp. Once they are dried, they have to be immersed in boiling water before they are again loosened up and ready for sale."

Yat Tung Chow Noodle Factory makes 11 kinds of noodles, some with egg and some without, some thin, regular, thick or flat. There are 11 kinds of wrappers for mun doo, potstickers, gau gee, won ton and siu mai, round and square, thick, thin and thinnest. "Our most popular wrappers are the mun doo wrappers used by different ethnic groups and the Hong Kong-style won ton wrapper," said Audrey.

A steady stream of folks files into the North King Street shop, buying a pound of this and a package of that. "We don't deliver, so we don't have many restaurant accounts," said Audrey.

So does this noodle-making family eat noodles? "Yes, I eat noodles," Chow said with a laugh. "You have to eat what you make. But I do prefer rice."

Noodle photos by Eugene Tanner • The Honolulu Advertiser