Associated Press
One bread pudding represents a wholesome comfort-food treat for a chilly day. Having three recipes to choose from helps make sure the variation you make is just what you want.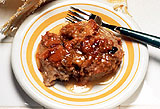 Homestyle Bread Pudding With Raisins is a comfort food that is especially delicious when served with cream or lemon sauce.

Associated Press

Bread pudding is one of those traditional desserts that usually don't call for much fancy effort from the cook. The versions here all contain the basic bread and eggs you would expect, plus some brown sugar.

One recipe calls for prepared peach pie filling, to give a fruity bonus to a winter dish. A "homestyle" recipe includes raisins for a nutritional boost. The third, a winner from a bread booklet, enriches its mixture with your choice of butterscotch, caramel or fudge ice cream sauce.




Peach Bread Pudding

4 cups French bread, cubed
3 large eggs, beaten
2 cups fat-free milk
1/2 cup granulated sugar
1/2 teaspoon almond extract
21-ounce can peach pie filling
1/2 teaspoon cinnamon
2 tablespoons brown sugar
2 tablespoons sliced almonds
1 1/2 teaspoons butter, sliced into pieces
Preheat oven to 350 F.

Coat an 11-by-7-inch baking pan with cooking spray. Spread bread cubes in pan. Whisk together eggs, milk, granulated sugar and almond extract. Stir in pie filling, reserving 1/2 cup for use as a topping if desired. Pour mixture over bread cubes; press into bread with back of spoon.

Combine cinnamon and brown sugar and sprinkle on top of bread mixture. Add sliced almonds and dot with butter. Bake 50-55 minutes until knife inserted in center comes out clean. Serve warm with peach pie filling on top if desired.

Cover and refrigerate any leftovers for up to three days.

Makes 8 servings.

Nutrition information per serving: 259 cal., 7 g pro., 50 g carbo., 2 g fiber, 4 g fat, 83 mg chol., 235 mg sodium.




Homestyle Bread Pudding With Raisins

2 1/2 cups skim milk
3 tablespoons butter or margarine
3 eggs
1/2 cup white sugar
1/4 cup brown sugar
1/4 teaspoon salt
1/2 teaspoon cinnamon
1 1/2 teaspoons vanilla extract
6 cups soft bread cubes (1/2-inch cubes)
3/4 cup seedless raisins
Lemon sauce, if desired (recipe follows)
Preheat oven to 350 F.

Add butter to milk and scald. In mixing bowl, beat eggs; add sugars, salt, cinnamon and vanilla. Mix well. Stir in bread cubes and raisins.

Spray 9-by-9-inch baking dish with nonstick spray. Pour bread mixture into pan; place dish in pan of hot water (1 inch deep). Bake at 350 degrees for 50-55 minutes or until knife inserted in center comes out clean. Serve warm, with lemon sauce or cream, if desired.

Lemon sauce

1 cup water
1/3 cup sugar
1 tablespoon plus 1 teaspoon cornstarch
1 tablespoon butter or margarine
1/2 teaspoon grated lemon rind
1 1/2 tablespoons lemon juice
1/2 teaspoon salt

Combine water, sugar and cornstarch in a heavy saucepan. Bring to a boil and cook until thick, stirring constantly. Remove sauce from heat and stir in butter, lemon rind, juice and salt.

Makes 9 servings.

Nutrition information per serving with lemon sauce: 214 cal., 5 g pro., 38 g carbo., .5 g fiber, 5.5 g fat, 74 mg chol., 275 mg sodium.




Caramel Apple Crisp Bread Pudding

Streusel topping:

3/4 cup all-purpose flour
1/2 cup packed brown sugar
1/3 cup butter or margarine, softened
1/2 cup chopped, toasted pecans


Pudding:
1 3/4 cups milk
1 cup butterscotch, caramel or fudge ice-cream topping
1/4 cup butter or margarine
4 cups cubed, white sandwich bread or rolls
2 cups peeled, thinly sliced apples
2 eggs, beaten

Additional ice cream topping, apple slices and mint sprigs, for optional topping and garnish.

Preheat oven to 350 F. Lightly grease a 1 1/2-quart baking dish.In a medium-size bowl stir together flour, brown sugar and butter until crumbly; add pecans and stir. Set aside.

In a large saucepan, combine milk, ice-cream topping and butter. Cook over medium heat until blended and butter is melted; remove from heat. Stir in bread and apples. Let stand 10 minutes. Stir in eggs. Pour into greased baking dish and bake for 20 minutes.

Remove from oven and sprinkle topping over partially baked pudding. Bake 20-25 minutes, or until apples are tender and a knife inserted in center comes out clean. Serve warm, with additional slightly heated caramel topping, if desired. Garnish with sliced apples and mint sprigs, if desired. Makes 8 servings.

Nutrition information per serving: 525 cal., 78 g carbo., 21 g fat, 9 g pro., 93 mg chol., 536 mg sodium, 2 g fiber.

Note: This recipe for Caramel Apple Crisp Bread Pudding, submitted by Kurt Wait of Redwood City, Calif., won a first place award for inclusion in the booklet, "Bread: Memories and Traditions of a Lifetime."

The booklet was produced by the American Bakers Association and the Wheat Foods Council.

It is available for $5, including postage and handling, by sending check or money order payable to: ABA Memories of a Lifetime/VK, 2405 Grand Blvd., 700, Kansas City, MO 64108.) Fifty percent of purchase price benefits the March of Dimes Birth Defects Foundation.