By Kaui Philpotts
OK, I'm going to say it once, and I mean it: If you are going to have a Super Bowl Party, make it fun, casual and serve real, straightforward fare. Do not fuss!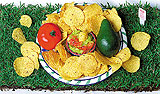 Serve casual food on a fun display of real grass, tortilla chips, guacamole, tomato and avacado.

Deborah Booker • The Honolulu Advertiser

The day for America's big game has grown to almost holiday-like proportions. There are parts of town where there's literally almost no one on the streets. Ice machines work overtime, and the takeout counter at the local market does a brisk business. So if you do an annual event at your house, or you're thinking of having some friends over, here are some ideas.

In case you're not the football fan in the house, the big game from Tampa Bay is on Sunday, Jan. 28 on CBS (KGMB-TV) with the pre-game coverage beginning at 7 a.m. and the official kickoff at 1:25 p.m. In other words, we're talking lunch.

If yours is not an annual happening, get on the phone now; folks tend to plan ahead for this. Don't invite more people than can comfortably watch the game on the television sets you have to offer. This is the time when you want the biggest screens you can muster. Consider opening up your house and having several viewing areas with several sets going. It all adds to the mood of the day.

The table

Begin by covering your table with a sunny, cheerful cloth of primary colors. If you don't own one, thick, natural straw mats would also work. If you have large, colorful cloth napkins and you're not having a crowd, use them. Otherwise, find paper ones (and sturdy plates) with a south-of-the border look. Heavy plastic outdoor tableware from summer picnics will also look good.

Drop by a garden shop and find a couple of good-sized cactus plants and place them in inexpensive terra cotta pots (after you've checked your own closets for something earthy and cheerful). I've even heard of Super Bowl tabletops covered in astro turf (indoor/outdoor carpet at Home Depot is 6 feet wide and $1.74 per square foot). Just measure the table and have it cut to fit.

Look around your house for a child's football or two, or pick up some football gear at a toy store. Remember that less is more.

Have fun.

The drinks

Yes, you want the humungous cooler filled with beer and ice, but stash it somewhere out of sight this year, and instead set up those colorful plastic tubs from the hardware store or Costco, or even old-fashioned galvanized ones. Upgrade your beer selection too (and how many of you agree that beer from bottles tastes better than from cans?). Make sure to have soft drinks on hand, too.

Not everyone at a Super Bowl Party is interested in the actual game. I'm going to be very politically incorrect, and suggest pitchers of pink margaritas for the wives and girlfriends who aren't in the least interested in football, but are very interested in visiting with each other in the kitchen or the backyard. Try something new: Add a berry-flavored liqueur to the tequila and margarita mix, and set up plates of salt to make the salt rims along with thin slices of lime.




Pink Margaritas

36 ounces of commercial margarita mix
18 ounces of light tequila
2 ounces triple sec
Chambord liqueur to taste

Fill a large pitcher with ice cubes, pour in the mix, tequila, triple sec and liqueur. Stir until very cold. Pour into a salt-rimmed glass (rubbed with lime and dipped into a plate of salt) and garnish. Makes about 12 drinks.




The food

Think sports bar. Guy food.

Since we have a little Mexican theme going with the bright plastic tubs of beer and the pink margaritas, there is no need to stop. Every corner market is filled with easy ways to throw together nachos or taquitos. There's even ready-made layered bean dip in the deli case.

If all you can get your hands on is the bottled salsa in your cupboard and you don't want to make your own from scratch, just chop up some Maui onions and cilantro (Chinese parsley) and mix it in to freshen up the flavor and give it a lift. Here is a recipe for that classic bean dip from scratch.




Mexican Layered Bean Dip

1 large (14-ounce) can refried beans
1 (16-ounce) carton sour cream (fat-free)
1/2 cup or more salsa
1 ripe avocado, seeded, peeled and chopped
2 medium tomatoes, chopped
1/2 small Maui onion, chopped
1 small (4-ounce can diced green chiles
2 small (2.5-ounce) cans sliced olives
1/2 pound shredded sharp Cheddar cheese

In a saucepan, heat the refried beans and spread on the bottom of a 9x13-inch baking dish or attractive casserole. Layer the rest of the ingredients in the order listed. Chill for at least an hour, or until ready to serve. Can be made a day ahead. Serve with lots of tortilla chips.

A friend of mine swears by chili for a hungry crowd of Upcountry Maui cowboys or polo players, and in this case the same reasoning applies. Chili for a Crowd comes from the old standard, "Silver Palate Cookbook" (Rosso & Lukins, Workman Publishing, $10.95). Set your table with bowls of condiments such as fat-free sour cream, chopped green onion, grated cheese, tomatoes and guacamole and let everyone dress it up as they like.

Steam a pot of white rice spiked with dry-roasted cumin seeds, or throw some chopped parsley into the finished rice. You can also make up some corn muffins and serve with butter and jalapeno jelly. Throw in a simple tossed green salad with an olive oil and balsamic vinaigrette and you have a feast.

By the way, you can do the condiments and just add a tub of chili from Zippy's if you don't want to cook, and still have a happy crowd. Remember, we are not fussing. Chili can be made at home a day or so ahead. Serve up the heavy stuff during half-time.




Chili for a Crowd

1/2 cup olive oil
1 3/4 pounds yellow onions, chopped
2 pounds sweet Italian sausage, removed from casings (try Portuguese sausage)
8 pounds ground chuck
Ground pepper to taste
2 12-ounce cans tomato paste
3 tablespoons chopped garlic
3 ounces ground cumin
4 ounces chili powder
1/2 cup Dijon mustard
Salt to taste (about 4 tablespoons)
4 tablespoons dried basil
4 tablespoons dried oregano
5 (2-pound, 3-ounce) cans Italian plum tomatoes
1/2 cup red wine
1/4 cup lemon juice
1/2 cup chopped fresh dill
1/2 cup chopped Italian flat leaf parsley
3 (16-ounce) cans red kidney beans, drained
4 (5.5-ounce cans) black pitted olives, drained

Heat the olive oil in a large soup kettle. Over low heat, cook the onions until translucent, about 10 minutes. Cook the sausage and ground chuck in the kettle until well-browned. Drain off excess fat. Add pepper, tomato paste, garlic, cumin, chili powder, mustard, salt, basil and oregano. Stir in tomatoes, wine, lemon juice, dill, parsley and kidney beans. Stir and simmer uncovered for about 15 minutes. Taste and correct seasoning. Add olives and simmer for another 5 minutes. Chili made ahead and warmed up always tastes better. Serves a whopping 35 to 40 portions.

Dessert

You can now forget about dessert for awhile because they're back to the game. You may want to watch some of those million dollar ads made especially for the Super Bowl. They're always interesting and sometimes quite controversial -great conversation for the water cooler the next day. Before you serve dessert, clear all the lunch dishes and start with a clean table. Set out carafes of fresh, hot coffee, cups, cream and sugar.

Make those desserts easy to pass and easy to eat, without more dishes. Pull out the holiday cookies and candy you stuck in the freezer after New Year's and arrange on a nice platter. Or make up a batch or two of your favorite chocolate chip cookies (did I say frozen chocolate chip dough?). And make them BIG. A tray of ice cream sandwiches and bars is always welcome too.

Or you can try Lemon Margarita Bars made by adding ¡ cup of margarita mix instead of the water to Betty Crocker's Sunkist Lemon Bar mix. These are so fool-proof I challenge anyone to know you didn't slave over them. Sprinkle the top with powdered sugar and ole!

Kaui Philpotts' Entertaining column alternates with her Island Pantry feature each week in the Taste section.