By Joan Namkoong
Advertiser Food Editor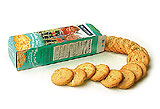 Girl Scout cookies are availiable for sale through Feb. 4. New this year is a Aloha Chips with Macadamia Nuts cookie.

No doubt you're seeing Girl Scouts selling cookies around your neighborhood: Their annual cookie sale will continue through Feb. 4. New this year is a Aloha Chips with Macadamia Nuts cookie that features white fudge chips and Hawai'i-grown macadamia nuts. Perennial favorites like Thin Mints, Samoas, Do-si-dos, Trefoils, Tagalongs, Lemon Drops and Apple Cinnamon are also available. For information, call the Girl Scout Council of Hawai'i: 595-8400.

Sprouts direct from Mainland

If you shop for bean sprouts this week, you may notice they are from the Mainland and a little costlier. The state's largest producer, HPC Foods, has shut down its sprouting facility for about a month to upgrade its facilities to comply with recent FDA guidelines. In the meantime, HPC has arranged for air shipments of Mainland sprouts. "Transportation will add to the cost, and they won't be as fresh as locally grown sprouts," said spokesman Ernest Enomoto.

Sauce thickener

That cornstarch in the familiar yellow box is Kingsford's to us (and folks in California, Denver and Philadelphia), but Argo to the rest of the country. It's the same product, sold by Bestfoods. What is this stuff used especially in Chinese cooking? Cornstarch is a natural, odorless vegetable powder, a carbohydrate in corn kernels. Thomas Kingsford developed a method of extracting it from corn in 1842. Cornstarch is used to thicken gravies, sauces, glazes, soups, stews and casseroles, barely adding any flavor. Cornstarch thickens while it adds a glossy appearance, especially in things like fruit pies. The reason cornstarch blends easily with cold liquids is that it remains in suspension until cooked, whereas flour absorbs liquid immediately.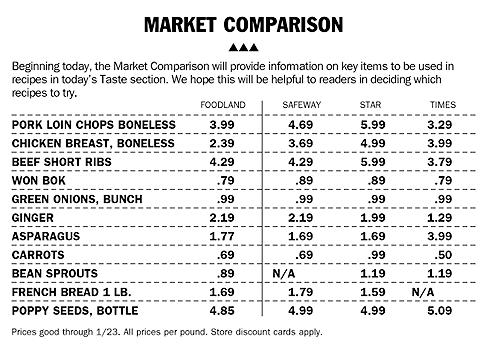 Send shopping queries and new product information to: Market Basket, The Honolulu Advertiser, P.O. Box 3110, Honolulu, HI 96802. Fax: 525-8055. E-mail: islandlife@honoluluadvertiser.com. Or call: 525-8069.