By Ferd Lewis
Advertiser Staff Writer
This is where it begins for young Matt Kuchar. Not at qualifying school. Not on the Buy.com Tour or somewhere overseas. But right here at the Sony Open in Hawai'i today in a full-field event.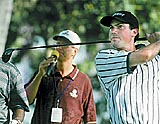 Matt Kuchar, a recent graduate of Georgia Tech, has lined up several exemptions to play in PGA tournaments this season in an attempt to gain his PGA card. He needs to finish in the top 125 of the money rankings to qualify. He'll begin that quest this week at the Sony Open.

Jeff Widener • The Honolulu Advertiser

Almost from the shadow of the campanile at Georgia Tech to the crucible of the PGA Tour at Wai'alae Country Club in a single ambitious bound for a 22-year old.

That's a daunting leap of faith even two other well-known Tech graduates, Stewart Cink and David Duval, did not attempt right out of school.

With a sponsor's exemption in hand for this tournament, one of several the former U.S. Amateur champion has lined up for the coming months, Kuchar attempts the ultimate sink-or-swim plunge, trying to play his way into a tour card by finishing in the top 125 of the money rankings.

"It is a difficult road, but you have to know something about Matt," said Bruce Heppler, his coach at Georgia Tech.

You should know this is something he had his eye on since age 13 when, despite being one of the top-ranked junior tennis players in Florida, he put away his racket after, as he puts it, "being bitten" by the golf bug.

"He sets a plan and stays to it," Heppler said, "That's one thing about him."

It was, for instance, Kuchar's grand plan to leave Georgia Tech with both a well-honed, PGA-worthy golf game and a degree in business within four years without sacrificing his summers to the classroom. Not an easy timetable to stick to amid the demands that came with a U.S. Amateur title and the mounting temptations of an early pro career.

"It took some doing, 19 units one session and 21 the next, but he got his (degree)," Heppler said. "By the time he'd played the 72nd hole in the NCAA Championship, finished our season, played in other events and gotten his degree, you could see he was physically and emotionally wiped out."

After Kuchar won the U.S. Amateur in 1997, followed it up with a 21st in the 1998 Masters and 14th in the 1998 U.S. Open, the best finish by an amateur in 27 years, it was all he could do to hold to his career master plan. Between his own expanding dreams and the onslaught of would-be agents and sponsors, he was a young man under siege from several sides.

"It got so crazy I used to have to go over to a friend's house just to get away from the phone," Kuchar said. "I'd go somewhere else so I wouldn't have to deal with it."

Eventually his own heart and the counsel of others who had gone before him helped Kuchar to see the way. "A lot of guys (on the PGA Tour) encouraged me to stay in school and see it through," Kuchar said. "Stewart (Cink), who was kind of like my big brother on tour, talked to me about finishing school first. They told me to enjoy college, that the PGA would always be there. They told me that 10-15 years down the road, I might regret it if I didn't finish school.

"And, they were right," Kuchar said. "I feel more ready, more mature now than if I had come out early."

For Kuchar, school is finally out but with this week's PGA debut, the tests are really just beginning.

Open notes: Four teams led by pros Steve Lowery, Billy Andrade, Fred Funk and Skip Kendall shot 18-under par 52s to win the Sony in Hawai'i Pro-Am yesterday at Wai'alae Country Club.