By Michael Tsai
Advertiser Staff Writer
There was a time once when just doing a marathon was a big deal. Not anymore. Hard-core runners have long since dismissed the hallowed 26.2 as just an arbitrary number and in so doing have redefined how far and under what conditions races can be run.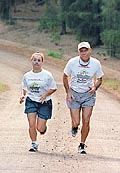 Paris Kippen, 16, and her father, Mark, have run races in South America, Europe and Africa. On Feb. 5, they will add Antarctica to the list. Paris is a sophomore at St. Andrew's Priory.

Deborah Booker • The Honolulu Advertiser

Take Mike Garcia. In training for the latest Hawaiian Ultra Running Team event, the Pearl City general contractor ran as much as 70 miles per week.

Sound excessive?

"I feel I'm not adequately prepared," said Garcia, 53. "The race came up pretty quickly, and there wasn't a lot of time to train."

Garcia isn't hedging. This weekend, he and 29 other ultra enthusiasts will take to the hills for Hawai'i's first 100-mile ultramarathon. Five registered participants completed at least four 100-milers last year. One German runner finished 20.

Even for a century run, The HURT Trail 100 is considered extreme.

The 20-mile loop course begins at the Hawai'i Nature Center in Makiki and follows a series of hilly, intersecting trails through Tantalus, Manoa, Nu'uanu and back. The race begins at 6 a.m. Saturday, and runners have to complete all five laps by 6 p.m. Sunday.

Inaugural 100-miler

About half the field will be local runners. The rest will be familiar faces — members of a tight-knit ultrarunning community that travels from race to race across the country and around the world.

HURT Trail 100
WHAT: Hawaiian Ultra Running Team (HURT) Trail 100, Hawai'i's first organized 100-mile trail run.
WHEN: 6 a.m. Saturday to 6 p.m. Sunday. Runners have 36 hours to complete distance. Sleeping at night is optional.
WHERE: Starts at Hawai'i Nature Center, goes to Paradise Park via Manoa Falls, to Jackass Ginger (Old Pali Road) and returns to nature center (20-mile loop).
ENTRIES: Closed.
INFORMATION: Mike Garcia, 596-2989, or John Salmonson, 566-6543.
WEB SITE
---
Last Marathon
WHAT: The Last Marathon.
WHEN: Feb. 5.
WHERE: Antarctica.
TIDBIT: 178 runners from around world expected to compete; Temperatures expected to be between 23-41 degrees.
WEB SITE

"I think everyone who runs ultras locally will want to be there because it's our first 100," Garcia said.

Race directors John and P.J. Salmonson said they don't expect more than three or four runners to actually complete the full 100 miles. While each participant was required to commit to the complete distance, John Salmonson said runners will be credited with a 100K (62 miles) finish if they complete three laps plus a two-mile loop.

Salmonson, a veteran ultrarunner, said he expects a lot of runners to seriously consider the 100K option.

"People will be coming in around 3 a.m., and that's when you're really wanting to eat it," he said. "You have blood sugar problems. You've probably fallen down a few times in Nu'uanu and there are still two laps to go. A lot of them will see their car when they get back to the Nature Center and say, 'That's it.' "

In preparing for his first 100-miler — the legendary Western States 100 — two years ago, Garcia trained intensely for more than six months. But his hard work was almost undone in the final miles of the race when he and his pacer, Richard China, got lost.

"We were at the 93-mile mark, and we were laughing because we were almost done," Garcia recalled. "Then somehow we got lost. It took us an hour to get back on track. We had all kinds of panic attacks."

While Garcia didn't have as much time to train this year, he and his running partners did their best to prepare. They ran steep hill repeats to condition their quadriceps and completed a 13-hour, overnight trail run to simulate race conditions and test their lighting equipment.

"I used a halogen head lamp and a hand-held light," he says. "Even a familiar course can look alien at night."

The Last Marathon

Another Hawai'i runner, retired Aloha Airlines pilot Mark Kippen, can look forward to a decidedly alien experience at his next race, regardless of how he trains. Kippen, 49, and his 16-year-old daughter, Paris, leave next week for Antarctica, where they will compete in the ominously nicknamed Last Marathon.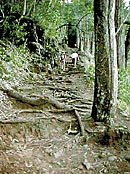 Top: Runners in Hawai'i's first organized 100-mile trail run must navigate through rugged terrain, much of which requires a climb, such as this area, from the stream's edge on the lower Judd trail.

Above: The Maunalaha Trail, at the start of the race, is about a half mile from the Hawai'i Nature Center.

"I thought this was a way to up the ante, to increase the degree of difficulty a little bit," Kippen said.

Now in it's fourth running, the Antarctica Marathon is the only sporting event held on the highly restricted seventh continent. Runners will do two 13.1 mile loops crossing the scientific research bases of Chile, China and Russia and Uruguay.

Kippen learned about the race from a small ad in the back of a magazine. One quick inquiry later, he and Paris were shopping for cold-weather gear.

"Opportunities like this don't come up all the time," Kippen said. "You've got to grab things when they come along."

Kippen, who regularly competes in road races, triathlons and other races, had no problem convincing Paris to make the trip.

"You can't just go to school and keep yourself in a box," she said. "You've got to explore if you get the chance."

Paris, a sophomore at St. Andrew's Priory, put aside swimming, dancing and other extracurricular activities to train for her first marathon last December. With her father's guidance, she refined her running form and, despite never going more than 10 miles at a time in training, was able to finish the Honolulu Marathon in six and a half hours.

"I'm not really a hard-core athlete like my dad, but I thought doing the marathon would be something in life to accomplish," she said. "It wasn't as bad as I expected. I thought I'd be more tired at the end."

World travelers

Paris said she is concerned about how she will perform in Antarctica's chilly conditions, but she's nonplussed about the trip itself. Last summer, she and father traveled to Peru. Her passport also has stamps from Cypress, Monaco, Egypt and most of the major European countries.

"I know I'm lucky," she said. "It helps that my dad has an adventurous spirit."

The pair will travel from Hawai'i to New York to Buenos Aires, Argentina. From Cape Ushuaia, they will board the Russian ice ship Lyubov Orlova and travel through the Beagle Channel past Drake Passage and the Shetland Islands and along the Antarctic Peninsula to King George Island, where the race will be held Feb. 5.

Temperatures are expected to be in the 40s on race day, but high winds could cause that to plummet. The Kippens are equipped for a tough run on gravelly, slushy, snow dusted pathways.

"It won't be terribly unbearable if nature cooperates," Mark Kippen said. "It'll definitely be an adventure."

Kippen, whose older daughter attends the Naval Academy Prep School, said the real joy of the trip will be in sharing yet another unique experience with Paris.

"I'm very close with both my daughters and I'm so pleased that Paris and I are able to do these events together," he said. "It's a real high for me. This trip is not about breaking any personal records, it's just the experience."