By Stephen Tsai
Advertiser Staff Writer
It took four long years for one of the University of Hawai'i football team's fastest players to fulfill a dream.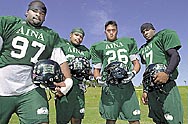 When this picture was taken Monday, Doug Sims, James Fenderson, Robert Kemfort and Dee Miller were the University of Hawai'i's representatives at Hula Bowl practice on Maui. UH middle linebacker Rinda Brooks was asked yesterday to play in Saturday's game.

Gregory Yamamoto • The Honolulu Advertiser

But Rinda Brooks, who enrolled at UH in 1997 for what was supposed to be a two-year college career, now will play in Saturday's nationally televised Hula Bowl at Maui's War Memorial Stadium.

Brooks, 24, received the all-star game's last invitation yesterday morning.

"It kind of shocked me," Brooks said. "I wasn't expecting (the invitation) at all. It's a great honor."Brooks will be the fifth Warrior on a Hula Bowl roster, joining defensive tackle Doug Sims, linebacker Robert Kemfort, safety Dee Miller and running back James Fenderson.

"We're extremely pleased the Hula Bowl has recognized the talent at the University of Hawai'i," said UH assistant coach Rich Miano, who is the Warriors' liaison to the postseason bowls. "We wish Rinda the best. A lot of scouts have been inquiring about him. We hope he can go over there and show what he can do."

Brooks, who was raised in Houston, transferred to UH from the New Mexico Military Institute in 1997. In his first game, he forced a fumble that led to a touchdown in UH's upset of Minnesota.

But Brooks was bothered by a variety of injuries, including several concussions, and was granted a medical hardship in 1998. He "retired" in 1999, with UH doctors citing the concussions.

After receiving medical clearance, Brooks made a surprise return to the team last April. By the end of the three-week training camp, he emerged as the starting middle linebacker — a job he held entering the 2000 season.

"This game is a good opportunity for me," said Rinda Brooks.

Advertiser library photo

The 6-foot Brooks played at 240 pounds — 25 more than in 1997 — but still maintained his speed. Last fall, he was electronically timed at 4.38 seconds over 40 yards.

He led the Western Athletic Conference in tackles for most of the season before being slowed by injuries. He finished eighth in the WAC with 8.7 tackles per game. He also made two sacks.

"I feel pretty good," said Brooks, who has kept in shape by running power sprints every day. "This game is a good opportunity for me."

With more than 40 National Football League scouts in attendance, the Hula Bowl also will provide exposure and opportunities for the other participating UH players.

Last year, Sims, Kemfort and Miller were limited because of injuries. The Senior Bowl rescinded an invitation to Miller after injuries sidelined him for four games.

But they are healthy — and hungry.

"I want to make the best of this opportunity," Miller said. "I've been waiting for this chance my whole life. I'm going to take advantage of it."

Sims, who can bench press 500 pounds, said this is a chance to showcase UH's program. "A lot of people overlook Hawai'i," he said.

For Kemfort, who was raised on Maui, this is a chance to play in front of family and friends. Kemfort said he never thought he would play in college. In May, he will become the first person in his family to earn a college degree.

Meanwhile, Fenderson said he is grateful for the invitation. In 1999, he lived in his pickup truck for a month. Last summer, nearly out of money and patience, he was offered a full scholarship by UH coach June Jones. Now, he has a chance to audition for pro scouts.

"I feel really blessed," he said.