Islands' Filipino community absorbed by crists in homeland
Latest updates from the Associated Press

By Dirk Beveridge
Associated Press Writer
MANILA, Philippines — President Joseph Estrada quit Saturday and the country's vice president replaced him in a wild finish to the Philippines' worst political crisis in more than a decade.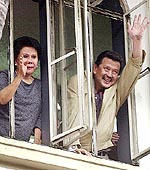 Former President Joseph Estrada and his wife Luisa wave to supporters from the municipal hall in suburban San Juan after leaving Malacanang Palace, the presidential residence.

Associated Press photo

The departure of the former action film star came after tens of thousands of protesters pushed through police lines and marched close to the presidential palace to demand his resignation, and the Supreme Court said he no longer governed.

The sudden shift in power came a day after Estrada's government collapsed amid a corruption scandal, fears of a coup and a collapsed impeachment trial. Many of his top military commanders and political allies had abandoned him.

"It is now, as the good book says, a time to heal and a time to build,'' Gloria Macapagal-Arroyo, who had been his vice president, told supporters after taking the oath of office at the monument to the 1986 "people power'' revolution that toppled late dictator Ferdinand Marcos.

Anti-Estrada demonstrators cheered wildly and waved flags after officials announced Estrada was out. Macapagal-Arroyo had been calling herself the "new commander-in-chief'' since Estrada's military leaders and most of the Cabinet deserted him Friday.

Estrada issued a statement saying he had "strong and serious doubts about the legality and constitutionality of her proclamation as president'' but that he would give up his office to avoid being an obstacle to the nation's healing process.

Estrada called on his supporters "to join me in the promotion of a constructive national spirit of reconciliation and solidarity.''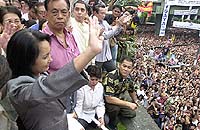 Gloria Macapagal-Arroyo waves to supporters after being sworn in as president of the Philippines in suburban Mandaluyong, east of Manila.

Associated Press photo

Trying to hide their sadness by smiling and waving to a group of reporters, Estrada and his family later left the Malacanang palace, shaking hands with the remaining members of his Cabinet and other palace employees.

They boarded a boat to cross the river to the headquarters of the Presidential Security Group, where they boarded a silver van.

Although Estrada had vowed earlier to "live and die in our country,'' a diplomatic source said he was believed to be preparing to go to Australia.

The U.S. Embassy issued a statement hoping for continued good relations with the Philippine government.

"The United States is pleased that the presidential crisis ... has been resolved without violence and in accordance with democratic and constitutional procedures,'' the statement said.

Macapagal-Arroyo has offered few hints about how she would govern, though she said tackling poverty and building consensus would be priorities.

She said in a television interview Saturday that top soldiers and police officers who abandoned Estrada would likely get their jobs back, adding she would not be prejudiced against others from the old administration when she selects a Cabinet.

The nation has been suffering through political turmoil that exploded in October with allegations Estrada took gambling kickbacks and skimmed money from provincial tobacco taxes.

His highly charged opponents and smaller groups of supporters got into shoving matches early Saturday near one roadblock, where rocks and one small explosive were thrown. Police fired at least one warning shot but there were no reports of injuries.

The end was inglorious for the man who won popular support as a champion of the poor but ended up being tried on corruption charges. The situation worsened Tuesday as senators serving as judges narrowly refused to open bank records that prosecutors say would have proven Estrada's guilt, and the impeachment trial collapsed.

Protests swelled and on Friday at least a quarter-million people demanded his resignation during a raucous rally at the site of the "people power'' revolt 15 years earlier.

As Estrada tried to negotiate as favorable an exit as possible — raising issues said to have included his departure from the nation as well as requests to take some of his fortune — demonstrators began the march that symbolized his defeat.

Some 75,000 protesters Saturday marched on the palace. Some rode in trucks and waved big flags and banners, but most were on foot, shouting and giving thumbs-down signs for Estrada, known by the nickname "Erap.''

The emotional crowd eventually reached a barricade not far from the palace gates and pushed through, yelling "Peace!'' at the riot police who quickly retreated.

"This is the only way to show President Estrada that he has to step down for the good of the country and the love of the nation,'' said Teddy Casino, a protest leader.

Estrada tried to buy time Friday with two appearances on national television. He offered to restart his impeachment trial, then later urged Congress to call snap elections in May, saying he would stay out of the race.

Sources earlier said three airplanes were put on standby at nearby Villamor Air Base, and that immigration officials were told to go there and prepare to process some people leaving the country soon.