By Joan Namkoong
Advertiser Food Editor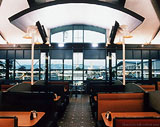 Zippy's restaurants have gained new familiarity in the last few years through the chain's "Next Stop Zippy's" ad campaign.

Advertiser library photo

The "Next Stop Zippy's" advertising campaign has become as popular as Zippy's itself, with its thumping soundtrack and distinctly Island feel. So who dreamed it up?
The 4-year-old project was the creation of Rich Peck, formerly of Peck Sims Mueller advertising agency and now on his own.
"I was looking for business and sent a letter to Francis Higa," recalled Peck. (Higa, now deceased, was the president of Zippy's.)
They made a plan to meet, and Peck wanted to arrive with an idea in hand. "I worried on it in my backyard and it popped into my head. It was like a lightening bolt. They liked it," he recalled.
The TV spots focused on busy lives and activities that work up an appetite and suggest that your next stop naturally would be Zippy's.
After the campaign was established, Zippy's moved on, hiring advertising firm Hendrix Miyasaki Shin. The newest spot, for Zippy's to Go, is a spoof on television cooking shows, said Brad Shin. It features "Chef Jeff" (actor Patrick Fujioka, a Kamehameha Schools teacher) about to prepare a meal in a demonstration kitchen when he pulls out a ready-to-heat bag of beef stew from Zippy's to Go.