Today in

Diet doctor's products made for home cooks
Americans' choice of cheeses grows wider
Chinatown markets sell abundance of foods
Bean casserole leaves room for substitutions
Cinnamon-Beef Noodle sauce will work in other low-fat recipes
QuickBites
Culinary calendar

By Joan Namkoong
Advertiser Food Editor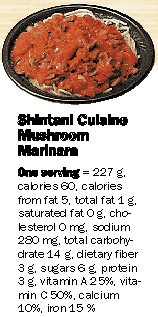 Next stop for a healthy meal: Zippy's.
What, you say, Zippy's? Home of the Zip Pack, chili and tender flaky Napples?
Yes, the Island-favorite venerable and popular Zippy's, with 21 fast-food locations on O'ahu serving thousands of meals a day, has taken up the cause of healthy eating with the blessing of Hawai'i's healthy eating guru, Dr. Terry Shintani.
Shintani, creator of the Wai'anae Diet, HawaiiDiet and the Eat More, Weigh Less Diet and author of books with the same names, has partnered with Zippy's to offer foods low in cholesterol and fat, made from fresh ingredients, affordable and convenient. The first Zippy's-produced meals appeared last January and the number of menu items has been growing ever since then.
"I'm a realist. I understand if healthy food is not available, it's hard to choose healthy food," said Shintani. "People don't have time to cook. Making food conveniently available is part of my initiative to influence the whole person and the whole community."
Shintani Cuisine, as it is called, does not extend to the entire Zippy's menu. "We are making an effort to be healthy," said Charlene Kim, director of marketing and information systems at Zippy's. "We have two lines: one with a healthy focus with Dr. Shintani and the other is our regular items." She said Zippy's tests new items throughout the year and the successes go on the menu.
Health-conscious consumers can choose from two dishes each day from a total of 20 that are rotated onto and off the menu. The list includes mushroom marinara, Cajun jambalaya, vegetable nishime, stew, curry, burrito, barley vegetable soup, potato and corn chowder, two-bean chili and barbecue beans with vegetable hot dogs. Brown rice is always available, and there are apple bran cakes, banana bread and carrot cake bars.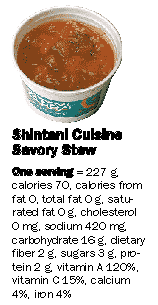 Three additions to the repertoire were introduced recently: a whole-wheat vegetarian soft taco, burrito with salsa and soba noodles with Asian vegetables. Prices range from $4.25 to $5.35 at Zippy's to Go outlets, about 60 cents higher in the Zippy's restaurants.
Food Solutions, a USDA-approved food manufacturing and processing facility, (a separate business entity but part of the Zippy's family of companies) prepares the food. It also produces Zippy's frozen chili, available in supermarkets, as well as those mail-order Hawaiian food specialties advertised on TV.
Shintani Cuisine dishes are made to the doctor's specifications. "They have been very cooperative and have made a good effort to avoid additives and to use fresh ingredients," said Shintani.
Less salty and less spicy than the usual menu items, Shintani Cuisine is designed for folks with health problems. "I encourage people to add a little soy sauce, pepper and chili to suit their tastes," said Shintani. "Like the two-bean chili: It's not enough spice for me. I add soy sauce and black pepper, and it's really good."
His early focus was on the health of ethnic Hawaiians, for whom he developed the Wai'anae Diet, based on traditional Island foods and using such items as taro, l¬'au leaf, fish and sea vegetables.
Shintani holds a master's degree in nutrition from Harvard University and medical and law degrees from the University of Hawai'i. He founded the Hawai'i Health Foundation, a nonprofit organization, in 1996.
Shintani's Hawai'i Health Program kicked off its "HawaiiDiet" with lots of media attention in 1997, with Gov. Ben Cayetano among a group of 23 in the three-week program designed to trim pounds and reduce cholesterol and blood sugar levels while eating a modified local-style diet.
Since then, his "HawaiiDiet" book has been a best seller, attracting national attention, and Shintani has conducted more programs for groups in the community. He continues to promote his eating program, which is essentially a vegetarian, low-fat, low-cholesterol plan based on whole foods combined with exercise.
"I have no way of gauging how many people have followed my eating plan," said Shintani. "I hear stories all the time; people continually stop me to thank me for their weight loss."
People who follow Shintani's 21-day eating plan menu can fulfill their lunch and dinner requirements at Zippy's each day.
"The best thing you can do if you don't have time to cook is to get a container at the Zippy's to Go locations, take it home, heat it up and add fresh vegetables and fruits," said Shintani. "The hardest part, cooking the entree, is done for you. That's what busy working people want. If you did it fresh, it would be better, but this is a close approximation."
Seniors, too, are taking advantage of the convenience, according to Shintani. "Seniors don't have the motivation - kids - to cook anymore. Many are on restricted diets. Zippy's makes it convenient for them."
Zip Packs, plate lunches, beef stew and chicken katsu are not about to disappear at Zippy's. It's now a matter of choice: local favorites vs. healthy alternatives.
"This partnership with Zippy's is a good start. It reaches out to the community where people are," said Shintani. "I can have an impact where I wouldn't ordinarily have an impact; my ultimate goal is to change the way society eats in Hawai'i."
Shintani Cuisine at Zippy's
At least two entrees are available every day at 21 Zippy's locations; more at some locations.
At Zippy's to Go locations, family-size portions (2 pounds) of several entree items are available daily, ready to take home, heat and eat. Prices range from $3.75 for soup to $8.45 for entrees that will serve 4-6. There are six locations within Zippy's restaurants: Pearlridge, Vineyard, Kapolei, Waipi'o, Kahala and Manoa.
Other places that serve Shintani Cuisine, prepared according to Dr. Shintani's guidelines:
Mocha Java Cafe at Ward Centre
Kahea'ai Cafe, Campus Center, University of Hawai'i