Market comparison
By Joan Namkoong
Advertiser Food Editor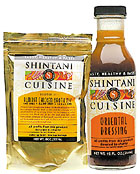 In addition to expanding the repertoire of healthy menu choices at Zippy's, Dr. Terry Shintani is producing products for home cooks that are low in fat but high in flavor. His all-vegetarian "Almost Chicken Broth Mix" can be used in place of chicken broth. The powdered product doesn't have additives, colorings, MSG or sugar. A 32-ounce bag is $6. "Oriental Salad Dressing" is a soy-based vinaigrette with 35 calories per serving. It has a gingery zip. A 12-ounce bottle costs $5. Both products can be found at Zippy's to Go counters at Kapolei, Kahala, Vineyard, Pearlridge, Waipi'o and Manoa.
Kava on shelves
Hawaiian kava, or 'awa, in powdered form is available at Longs Mo'ili'ili, Ala Moana and Kahala. Two ounces, enough for 6 cups of the drink, is $7.49 to $8.79 depending on the grade, according to distributor Jonathan Yee. "Prices are dropping," says Yee. "Hawaiian Kava has a better flavor than South Pacific kava, and this is organically grown on the Big Island." Kava root, dried, ground and then mixed with water to drink, has been used to reduce stress and anxiety, improve memory and concentration and as a sleeping aid.
Go for the gold
In the "Find the Golden Wrapped Pop-Tarts" sweepstakes, look for Pop-Tarts wrapped in gold foil in specially marked boxes of the toaster pastry from Kellogg's. A $10,000 grand prize will be awarded, 100 second-prize winners will receive $1,000 and another 1,000 people will win cases of Pop-Tarts. Winners will be announced in April.
Send shopping queries and new product information to: Market Basket, The Honolulu Advertiser, P.O. Box 3110, Honolulu, HI 96802. Fax: 525-8055. E-mail: islandlife@honoluluadvertiser.com. Or call: 525-8069.