Associated Press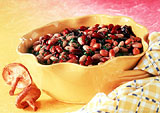 Cooks can choose any canned or dry-packaged bean when making this recipe for Wild Mushroom Baked Beans.

Associated Press

This tasty version of the versatile bean casserole can be wild or not, as you wish.

An appealing aspect of the recipe is that it gives vegetarian cooks considerable room for making choices about what ends up in the bean pot.

The beans suggested in the ingredient list are a combination of pinto and great northern beans, but any kind of canned or dry-packaged beans may be substituted, to suit your pantry shelf.

In the same way, shiitake and baby portobello mushrooms are listed as a starting point, but almost any favorite wild or cultivated mushrooms can be used to suit your taste and the season.

Wild Mushroom Baked Beans
3 1/2-ounce package shiitake mushrooms, sliced
8-ounce package baby portobello mushrooms, sliced
1 cup chopped onion
2 teaspoons minced garlic
2 tablespoons olive oil
2 tablespoons flour
15-ounce can pinto beans or
1 1/2 cups cooked dry-packaged pinto beans, rinsed and drained
15-ounce can great northern beans or 1 1/2 cups cooked dry-packaged great northern beans, rinsed and drained
15-ounce can red kidney beans or 1 1/2 cups cooked dry-packaged red kidney beans, rinsed and drained
1 1/2 cups dry white wine or vegetable broth
3/4 teaspoon dried thyme leaves
Finely chopped parsley, optional garnish
Preheat oven to 350 *.
Saute mushrooms, onion and garlic in olive oil in a large skillet until tender, 8-10 minutes. Stir in flour; cook 1- 2 minutes longer.
Combine mushroom mixture and remaining ingredients, except parsley, in 2-quart casserole.
Bake, uncovered, for 45 minutes; sprinkle with parsley before serving, if desired.
Makes 6 main-dish servings (about 1 cup each) or 12 side-dish servings (about 1/2 cup each).
Nutrition information per 1-cup serving: 321 cal., 6 g fat, 50 g carbo., 530 mg sodium, 14 g pro., 14 g dietary fiber, 0 mg chol.