Associated Press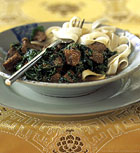 This version of Cinnamon-Beef Noodles calls for simmering the meat for a long time in a soy sauce-based mixture.

Associated Press

Cinnamon-Beef Noodles is one of the signature dishes of the Chinese cooking style known as "red cooking," braised in a soy sauce-based mixture, Nina Simonds explains.
Simonds, who has traveled widely in Asia and published six books on Chinese cuisine and culture, included the recipe in a feature on how to cook Chinese, in Cooking Light magazine's current issue.
The feature is the first one in a series on world-class cuisines, the magazine says.
In this low-fat dish, the meat is simmered in its sauce for a long time until it's very tender. Seasonings include ginger and garlic, besides the cinnamon.
This method is used to cook a variety of meats, including pork, lamb, chicken and duck, Simonds says.
Cinnamon-Beef Noodles
5 cups water
1 1/2 cups rice wine or sake
3/4 cup low-sodium soy sauce
1/4 cup sugar
2 teaspoons vegetable oil
2 pounds beef stew meat, cut into 1 1/2-inch cubes
8 green onions, cut into 1-inch pieces
6 garlic cloves, crushed
2 cinnamon sticks
1-inch piece peeled fresh ginger, thinly sliced
10-ounce package fresh spinach, chopped
4 cups hot, cooked wide noodles or vermicelli (about 8 ounces uncooked pasta)
Combine water, rice wine, soy sauce and sugar in a large bowl; stir with a whisk. Set aside.
Heat 1 teaspoon oil in a large Dutch oven over medium-high heat; add half the beef, browning on all sides. Remove from pan. Repeat procedure with remaining oil and beef.
Return beef to pan; add water mixture, onions, garlic, cinnamon and ginger. Bring to a boil; cover, reduce heat, and simmer 2 hours or until beef is tender. Discard ginger slices and cinnamon. Stir in spinach; cook 3 minutes or until wilted. Serve over noodles.
Makes 8 servings.
Nutrition information per serving: 403 cal., 6.2 g fat (2.3 g saturated fat), 30.5 g pro., 50.4 g carbo., 2.9 g fiber, 44 mg chol., 1,080 mg sodium.