By Ann Miller
Advertiser Staff Writer
April Atuaia's little legend began in last year's O'ahu Interscholastic Association Basketball Tournament, when as a Kahuku senior, she picked apart previously unbeaten Moanalua. The legend — like the "La'ie Girl" tattoo that graces her left shoulder — has been expanding ever since.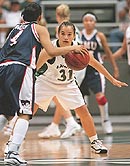 Freshman April Atuaia has made a smooth transition from high school to college basketball.

Eugene Tanner • The Honolulu Advertiser

"We tried four people on her, tried all kinds of things," Moanalua coach Dana Dias recalled. "She hurt us in so many ways.

"We underestimated her ability to take it to the hole and finish. In the OIA, she usually passed off, she was very unselfish. We really wanted to force the issue with Atuaia. From the first possession to the end, she took control of that game."

The freshman will start for the University of Hawai'i Wahine in Western Athletic Conference games tomorrow against Tulsa and Sunday against Rice, just as she has since the sixth game of her collegiate career. Tip-off is 7 both nights at Stan Sheriff Center.

Atuaia, a good size (5-10) wing player, can shoot and score. "I was surprised at how fast she pulled the trigger," said SMU coach Rhonda Rompola, after Atuaia scored 15, with eight rebounds, against her team. "She is one confident freshman."

Atuaia also subs at the point and guards the opponent's most serious scoring threat, for a 12-4 team that is trying get into its fourth postseason in six seasons.

"She's tough," Wahine coach Vince Goo says. "If she gets burned, she just comes back harder."

In other words, she looks nothing like a freshman, plays nothing like a freshman and is never treated like a freshman. Atuaia is too poised and prolific for that. She does, thankfully, sound like a freshman.

"I have fun," Atuaia said, summing up all that is behind her game face. "You've got to love what you do."

It is an outlook that runs in the 'ohana. April, the youngest of six children, characterizes her only sister — Mili, the oldest — as the finest athlete. Her brothers, including 1991 Advertiser Player of the Year Mark Atuaia, played football.

April was born in Western Samoa, grew up in La'ie, then moved to Utah when Mark went to BYU. She came home, for Senior Season II at Kahuku. Senior Season I came in the winter at Orem High School. "I was happy about it," she said. "I got to graduate with all my friends."

Goo said when he first watched her, on tape from Utah then in person, he "saw Kaui Wakita." She played for him in the early '90s and is seventh in career scoring and No. 1 on Goo's most graceful list. Wakita's game flowed from her heart, as does Atuaia's.

"The basketball skills, ability, instinct, even in personality we saw Kaui," Goo said. "We thought she was quiet. We knew she could play basketball. We were wondering if she was going to be in cruise control like Kaui was her first year and a half. We're surprised that she isn't. She is a lot more assertive than Kaui was early."

Dias could have told him that.

"To think that we just played her in April and to see how she's developed is phenomenal," Dias said. "But she's always had it in her. April comes with a lot of skills and tools, but what sets her apart is she's got a good basketball brain. She makes great decisions, especially at such a young age. It's good for the high school kids to see."

For Atuaia, this is all unexpected. She didn't expect to start now, and barely expected to play. She is even more surprised at how much she has learned, and enjoyed, away from the court, from a bunch of teammates who were strangers five months ago.

Atuaia is now in on all the inside jokes. She has thrived under captain Kylie Galloway's unique mentoring approach, which has Goo a bit worried. Already, the senior has talked Atuaia into pulling down teammate Crystal Lee's shorts during a TV interview.

"April's got some rascal in her," Goo said. "Like a good freshman, she listens to her team captain. And Kylie being the team captain, that might get her in trouble. I think Kylie sees a lot of herself in April when she was a freshman."

OVER AND BACK: Tomorrow is Report Card Night. Students who bring in a report card with at least a 3.0 grade point average get in free. ... April Atuaia is related to former wrestler Jimmy "Superfly" Snuka. ... Mark Atuaia, who lives in Utah, is in town working on his latest CD and trying to put together local concerts, according to his sister.