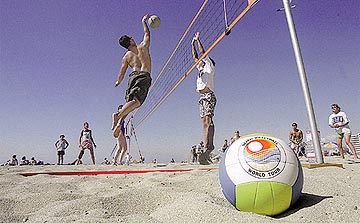 Peter Quan goes up for a spike against Key Lawson during a volleyball match at Queen's Surf at Kuhio Beach. The beach offers a good workout and a few advantages over other playing surfaces, not the least of which is the soft landing when diving for balls. Plus, there's always the ocean to cool off in afterward.

Bruce Asato • The Honolulu Advertiser
Breakdown on attributes of volleyball

By Michael Tsai
Advertiser Staff Writer
Contrary to what record-setting crowds at the Stan Sheriff Arena might suggest, volleyball was not actually invented in Hawai'i. That distinction goes to Holyoke, Mass.
William Morgan, a YMCA instructor, is credited with developing the game in 1895 in an attempt to combine elements of basketball, baseball, tennis and handball in a sport that was vigorous yet low contact. The game as we know it really took shape in 1916 when players in the Philippines introduced the set-and-spike attack.
In Hawai'i, the success of the University of Hawai'i volleyball programs has spawned a community passion for the sport, a passion that in true local style has spilled outdoors.
From night leagues at public courts to family picnics in the park to intense two-on-two matches on the beach, Morgan's game is a prominent feature of the local landscape.
According to our health and fitness experts, it's also one of Hawai'i's top 10 outdoor activities.
"It's great because you can play it in a lot of different outdoor areas," said Jeff Deininger, health and fitness director for the YMCA. "If you have the skills, you can get some real health benefits out of it."
In fact, it's the level of skill and fitness required to play the sport that prevented it from being ranked higher on our list. Basic proficiency in skills such as bumping, setting, blocking and serving is necessary to maintain continuous play, which in turn allows for a rigorous aerobic workout.
"If you have the skills, you can get a lot of health benefits out of it," said Deininger. "If you don't have the skills, you won't have that much fun."
Basic proficiency can also be necessary to gain access to organized play.
"A lot of the people who play are very skilled," said Angela Wagner, program manager with the state Department of Health's Health Promotion and Education Branch and coordinator for Kaho'omiki, Hawai'i's Council on Physical Activity. "You need a certain level of skill to be welcomed to play in certain leagues. There isn't a log of infrastructure for adults who want to learn how to play."
Dennis Chai, a professor of kinesiology and leisure science at the University of Hawai'i, said conditioning is another important factor.
"The game can be very taxing," he said. "It requires short bursts of energy and movement. Jumping involves a lot of initial exertion."
As with any activity that involves explosive muscle reactions, flexibility is extremely important to avoid injury. The hamstrings, hip flexors and Achilles' tendons are particularly vulnerable to strains.
Deininger advises players to get in shape before they start playing.
"A lot of times, people will play a sport thinking it will help them get into shape," he said. "In actuality, you need to get in shape in order to play the sport at a level that will allow you to get some health benefits out of it."
Playing surfaces are a matter of personal preference, but from a safety standpoint, softer is better. Asphalt courts yield little during dig attempts and their rough surfaces can cause cuts and abrasions. Grass is much more forgiving and can be gentler on knees and ankles through repeated jumps. Sand offers perhaps the safest and most rigorous workout.
"Sand definitely lessens the impact, and if you're playing two-a-side, you'll get a good workout trying to cover more playing area," Deininger said. "Sand also takes a lot of jump out of you. That can work to your advantage if you're up against a dominating athlete who can really jump."
Breakdown
The good: Volleyball provides a balanced, total body workout while honing eye-hand coordination, reflexes and timing. Hitting and blocking at the net requires development of quick-twitch muscle fibers in the legs allowing for repeated, explosive vertical lifts.
The bad: Outside courts are often full at public parks. Frequent stoppages in play can result in a less efficient workout.
Watch out for: Rotator cuff injuries, ankle sprains, lower back strain.
Getting started: The tried and true bump-and-set circle is an informal and effective way to get a feel for the ball. Game skills can be honed at seasonal volleyball leagues, accessible through most public parks and gyms. For a good overview of rules, skills and equipment, visit www.volleyball.org
The last word: "It's more fun playing on the beach," says Jonathan Tanji of Makiki. "On the sand, you can definitely take a harder dive for the ball. And when it gets hot, you can take a jump in the ocean."