By John Duchemin
Advertiser Staff Writer

Two months into his chairmanship of Bank of Hawai'i parent Pacific Century Financial Corp., Michael O'Neill said he has lots to learn about the state's biggest bank and the financial struggles that led to his predecessor's departure.

O'Neill, however, has quickly taken action that, while dampening Pacific Century's fourth-quarter income — it fell 13.3 percent from the previous year — has improved its credit quality and boosted its stock price nearly 50 percent.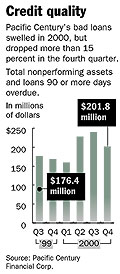 O'Neill, a former Bank of America executive, has authorized the sale of three regional operations and the Bank of Hawai'i credit card franchise, all of which were profitable — but not enough, he said. He has hired several key officers to oversee the bank's credit, finance and risk management, including Allan Landon, a risk-modeling expert who will succeed resigning Chief Financial Officer David Houle on Feb. 2.
O'Neill also has accelerated the cleanup of hundreds of millions of dollars of bad loans. And he plans to push for a more aggressive stance in Hawai'i, where Bank of Hawai'i's dominant market share is coming under increasing pressure from competitors.
The moves have analysts happy — at least for now. Pacific Century stock has risen from $13.56 per share Nov. 3, O'Neill's first day, to a closing price of $20.06 yesterday. But analysts said all eyes are on O'Neill's "strategic assessment" of the company, a review of Pacific Century's global operations that will set the bank's long-term course.
"We've raised our stock price target a bit because we're more comfortable with the near-term trend, but we're not changing our earnings estimates yet, partly because we haven't heard anything firm about the strategic plan," said Jim Bradshaw, a banking analyst with D.A. Davidson.
The results of the assessment will be unveiled with first-quarter earnings April 20, O'Neill said. He said all areas are being looked at, and nothing is firm yet. But Pacific Century will divest itself from areas that aren't making enough money, said O'Neill, who succeeded Lawrence Johnson as chairman of the $14 billion bank.
The driving motive, O'Neill said, is to reduce the bank's risk while increasing its returns, which he called "unacceptable" at current levels. Pacific Century in fourth-quarter 2000 earned $32.6 million, down from $37.6 million in fourth-quarter 1999, the company announced yesterday. Its return on average equity was 10.24 percent — well below industry benchmarks. The most profitable banks produce returns above 20 percent.
O'Neill said risk models show Pacific Century should be earning at least 13 percent to keep investors happy. Otherwise, the returns aren't worth the potential risks — and rational investors would be happier owning a safe government bond than Pacific Century stock, O'Neill said.
"My whole philosophy is based on looking at one thing — getting earnings above that benchmark," O'Neill said. "If I get that right, all the other numbers will fall into line. There's plenty of strong financial evidence to back that up."
Pacific Century's sale of operations in Samoa, Tonga and Arizona, and its sale of hundreds of millions of dollars in credit card assets to American Express, are perfect examples, O'Neill said.
"Those businesses were not particularly risky, but their earnings were not enough to be other than a capital drag," he said. "They were destroying investors' value rather than increasing it. By selling them, we get our capital back, plus a premium."
Credit quality
Moves to improve credit quality are directly in line with that philosophy, O'Neill said. Pacific Century "charged off," or removed from its books, several bad loans worth $25.6 million in the fourth quarter. It also managed to recover $29 million from two bad commercial real estate loans.
The result was a 16 percent quarter-to-quarter drop in assets delinquent 90 days or more, to $201.8 million, down from $240.2 million at the end of third-quarter 2000. But the company also increased its provisioning for loan losses to $25.8 million for the quarter, up from $20.2 million in third-quarter 2000. That extra provisioning, which counts as an expense on the income statement, helped push income below fourth-quarter 1999 levels.
Despite the drop in earnings, the moves against bad loans show O'Neill is serious about credit quality, analyst Bradshaw said.
Pacific Century's non-performing loans have ballooned since the Asian economic crisis of the late 1990s, when the bank found itself overextended in Asia and the Pacific. An announcement of increased losses in second-quarter 2000 ultimately led chairman Johnson to announce his resignation in August.
Federal regulators last fall forced the bank to sign a "memorandum of understanding" to deal with its credit problems or face further discipline. The memorandum, which lets regulators from the Federal Deposit Insurance Corp. oversee some lending functions, is still in effect, bank officials said yesterday.
Now, however, the bank appears back on track, Bradshaw said. "The bank really had a nice, dramatic turnabout in credit fortunes this quarter," he said.
New business
In Hawai'i, O'Neill's quest to improve capital value will take the form of a campaign to increase Bankoh's market share and local revenues. While the bank has the largest Hawai'i operation, employees need to be more aggressive in pursuing new business and keeping old customers, O'Neill said.
The bank said assets fell 3 percent to $14 billion at the end of 2000, down from $14.4 billion the previous year. Deposits fell 3.3 percent to $9.1 billion.
"We've got a very, very good franchise in Hawai'i, but I still want to vigorously grow that business," he said.
"We need to get people back on the ball, to go out there and win market share."
Analysts said they liked O'Neill's willingness to take a temporary hit — but not portray the company as a loser to boost his own reputation.
During an investor's conference call yesterday, Mark Lynch of Wellington Management said O'Neill appears to be refusing a new boss' "prerogative to take a big loss and blame it on the previous management," an approach that could cause a stock to drop.
"What you're inferring is that you're coming up with good results, and the situation wasn't totally dire when you arrived," Lynch said.
O'Neill also said he sees no need for staff cuts. The company's efficiency problems, which led to the bank's "New Era" cost-cutting program and more than 1,000 job cuts, several hundred layoffs and several branch closures between 1998 and 2000, are history, the new chairman said.