By Curtis Lum
Advertiser Staff Writer

Police ran down prison escapee Kerbert Silva yesterday afternoon in Makakilo, but not before he made one last attempt to flee.

Silva had been the subject of a manhunt since he escaped from the O'ahu Community Correctional Center in Kalihi on Jan. 17, his 37th birthday, by climbing a 16-foot fence that was topped with razor wire. He was spotted at least twice in the Nanakuli area in the past week, but was able to elude police until yesterday.

Shortly before 5 p.m. yesterday, the landlord of an apartment at 92-1005 Lalahi St. was checking on the recently vacated unit when he saw a man sleeping on the living room floor, said police Lt. Frank Pugliese. Pugliese said the landlord closed the door without waking the man and called police.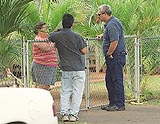 Sheriff's deputies sought information in Nanakuli about the wherabouts of Kerbert Silva before he was caught in Makakilo.

Bruce Asato • The Honolulu Advertiser

Officer Herbert Soria responded to the trespassing complaint and ordered the sleeping man to come out. Instead of surrendering, the man went to the rear of the apartment and jumped from a second-floor balcony.

Pugliese said Soria didn't realize who the man was until he saw Silva jump. Soria called for assistance and then gave chase.

Silva found a bicycle in a neighboring yard and rode off toward Panana Street. But Soria was able to corner Silva in a parking lot at 92-1340 Panana St. and apprehend him after a brief struggle.

Pugliese praised Soria for his persistence. "He got him on his own. He wouldn't give up on him. He did real well."

Silva was taken to St. Francis Medical Center West for treatment of minor scrapes and bruises. He was then booked at the Pearl City police station on charges that included escape, trespassing and resisting arrest. Later, he was to be returned to the prison.

"Nobody really got hurt, which is what we really are happy about," Pugliese said. "There wasn't a standoff, there was no inconvenience. We could have had to shut off Makakilo Drive and 2,000 residents wouldn't have gotten home tonight."

Abram Kamalamalama, 13, lives in the area and saw the pursuit.

"He was in an empty apartment and all of a sudden he took somebody's bike and tried to steal it, but the police caught him before he could run away," Kamalamalama said. He said Silva was wearing only black shorts and had a tattoo on his left arm.

Girlfriend worried

Stella Makekau, Silva's longtime girlfriend, said last night that she was relieved the father of her two children — a daughter, 21, and son, 8 — was apprehended unharmed. She had pleaded with him to give himself up.

"I didn't want him to get hurt because the police must have been so mad at him," said Makekau, 39. "I just didn't want him to get gunned down or anything. That was my most concern."

Makekau obtained a temporary restraining order against Silva on Nov. 22. In the document, she accused Silva of physically and verbally abusing her.

She did acknowledge that Silva called her while he was running from the law. Makekau wouldn't say when she received the call.

"He was just letting me know that he was OK and how was his son doing. That's it," she said. "I tried talking to him to do the right thing."

Department of Public Safety director Ted Sakai said last night that Silva will be placed under more strict supervision at the prison. He said prison officials have reinforced the fence area where Silva made his escape.

"We're really grateful for the good work of the police department. Second, we're relieved that he was captured before anybody got hurt," Sakai said.

Second escape

This was Silva's second escape from the prison. On Aug. 26, 1987, when he ran through the prison's mess hall to freedom.

Silva has 10 convictions for domestic abuse, auto theft, burglary and theft. He was awaiting trial at the prison on a year-old auto theft charge.

This past Saturday, witnesses say they saw Silva along Kawao Avenue in Nanakuli, then hiding in an office trailer and later in a van. Tuesday night, witnesses say they saw him running from a stolen white Toyota that flipped on Farrington Highway near the Kahe power plant.

About eight prisoners a year manage to escape or walk away from O'ahu Community Correctional Center, warden Clayton Frank said. Most are caught in far less dramatic fashion than was Silva.

Since 1992, 13 inmates have managed to get away and remain at large. They are the ones who failed to return to work-furlough programs or the prison's day reporting center.

Their crimes range from harassment to robberies and assaults. One man on the list has 30 convictions on his record. Frank said the ones who remain hidden from the scope of authorities are likely to either have help or steal other people's identities.

Advertiser staff writers Tanya Bricking and Dan Nakaso contributed to this report.