Bloomberg News

United Airlines said yesterday it had decided to follow American Airlines and Continental Airlines Inc. in increasing the fee it charges fliers to change a nonrefundable ticket.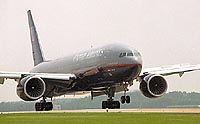 One of United Airlines' Boeing 777 arrives at Dulles Internationl Airport. The carrier becomes the third to raise the fee charged to change a nonrefundable ticket.

Associated Press file photo

United, one of Hawai'i's largest carriers, raised its fee to $100 per ticket from $75, as did Continental earlier this week. American said Thursday that it would boost its fee to $90.

American and Continental said the increase would make up for higher operating expenses and allow them to recover a portion of revenue lost when a ticket is changed. United's move was prompted by its rivals' changes, said spokesman Joe Hopkins.

Northwest Airlines Corp., Delta Air Lines Inc. and Trans World Airlines Inc. have said they're reviewing the fee increase. America West Holdings Corp., US Airways Group Inc. and Alaska Air Group Inc. have not boosted the fee.

Southwest Airlines Co., the largest low-fare carrier, doesn't charge a fee to change a ticket. The airline does charge for the difference between the canceled fare and the new one, if a difference exists.