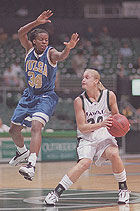 Wahine pick apart press, win 63-53
Rallying from a wretched opening half, the University of Hawai'i Wahine overcame Tulsa, 63-53, last night to improve to 4-2 in WAC play and 13-4 overall.

Rainbows erupt for four runs in 8th, win 5-1
Closer Bryan Lee, who got a reprieve Thursday night, made the best of a second chance to help Hawai'i defeat Sacramento State, 5-1, in collegiate baseball last night.

Shutouts lift Kailua, 'Aiea in OIA soccer
Kailua and 'Aiea recorded 2-0 shutouts at 'Aiea's field, while Campbell and Radford won their matches at Kailua's field to advance to the quarterfinals of the OIA boys championship tournament.

Kalaheo clinches tie for Eastern title
D.C. Daniels scored 19 points and Skyler Wilson added 14 to power Kalaheo to a 92-40 rout of Kaiser and clinch a tie for the OIA boys' Eastern Division basketball title.