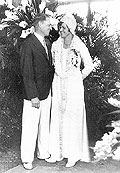 Helen Sanborn married Alan
Sanford Davis at Wawamalu Ranch on March 18, 1930. Alan Davis was a partner in the ranch, which included his own private cottage near Koko Head.

Davis family photo
Book Review
A kama'aina's life story
Helen Kapililani Sanborn Davis' Hawaiian name means "close to heaven," and reading this as-told-to biography you have a sense that she has, indeed, lived a blessed life.

Oprah scores a success with her magazine
Oh! Or better yet, wow! That's what the magazine industry is saying about O, Oprah Winfrey's start-up magazine, which in just eight issues has far surpassed the wildest dreams of all involved.