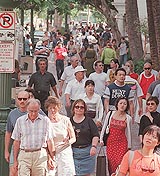 As Hawai'i's annual visitor arrival figures soar above 7 million, tourism industry officials note that vacationers need to be aware of possible criminal activity. However, they consider the beating death of Canadian Norman Chaplan to be a rare incident.
Eugene Tanner • The Honolulu Advertiser
IRS deal ends Liberty House bankruptcy case
The Internal Revenue Service yesterday agreed to cap a potential tax liability of Liberty House at $14 million, ending the kama'aina retailer's three-year bankruptcy case.

Officials see killing of tourist as isolated event
The killing of an 81-year-old Canadian tourist this week drew concern from the visitor industry, but several officials said because of its rarity, the incident is unlikely to significantly affect the state's No. 1 industry.