By Ann Miller
Advertiser Staff Writer
Rallying from a wretched opening half — five days removed from a wretched last half — the University of Hawai'i Wahine overcame Tulsa, 63-53, last night in a Western Athletic Conference basketball game.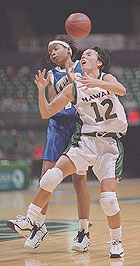 Wahine Janka Gabrielova loses control of the basketball after being bumped from behind by Tulsa's Carla Morrow.

Eugene Tanner • The Honolulu Advertiser

Before a Stan Sheriff Center crowd of 822, the Wahine broke from a 28-28 halftime tie by scoring eight of the first 10 points in the second half. All four baskets came from underneath as Hawai'i went into attack mode the moment it walked out of the locker room, on coach Vince Goo's orders.

"There was no way we were going to let up because two losses in a row would absolutely make me nauseous," said UH senior Crystal Lee, who led all scorers with 21 points. "We just needed to fight."

The Wahine (13-4, 4-2 WAC) did that valiantly in the second half, stifling Tulsa (4-13, 1-5) into 31 percent shooting while they hit half their shots and picking apart the 'Canes' full-court pressure.

"They threw over the press in the second half and just beat us back," Tulsa coach Kathy McConnell-Miller said. "They got better looks and took advantage."

It was a dramatic contrast to Hawai'i's previous two halves. UH lost a home game to San Jose State for the first time ever Sunday. When Tulsa, which won its first WAC game only last week, controlled UH for most of the first half. Wahine World looked grim.

"You could tell Vince was a little bit nervous at halftime, as we all were," Lee said. "But he got us fired up."

Hawai'i was fortunate to be close. Its offense went into sleep mode after breaking ahead 6-3. The Wahine ended up chasing Tulsa for the final 17 minutes of the opening half. They finally caught up with 20 seconds showing by holding the Hurricanes to two points in the final 4:46.

Hawai'i used its 10 healthy players in the half and the only real offense it could generate came from Lee, who hit three 3-pointers in a five-minute span.

"We went to Crystal a lot tonight because she was good," Goo said. "She controlled our offense. When she was open, she hit 'em. When she had the chance, she went inside."

The Wahine's persistent problems with the press turned its offense one-dimensional. McConnell-Miller said the only reason she went to the press was "to take their (the 'Canes) minds off the fact that we don't score as much as we need to."

But in the second half, UH point guard Janka Gabrielova handled the ball well enough to open up the offense and every Hurricane miss erased another press. Gabrielova and Michelle Gabriel also held Tulsa guard Athena Pirpich — one of the Wahine's most compelling worries on defense — scoreless.

Hawai'i extended its advantage to 10 (43-33) on another Lee shot from long range, with 12:38 remaining. Tulsa could cut its deficit to single digits just twice more the rest of the game. It only scored consecutive baskets once in the final 20 minutes.

The Wahine play Rice tomorrow at 7 p.m.
OVER AND BACK: Hawai'i's Christen Roper got two more blocks last night, giving her 51 in her sophomore year. She broke the UH single-season record last week.