By Beverly Creamer
Advertiser Staff Writer
They called Marci Valiente the "hatchet lady" at work, and she knew it. As Verizon's "attendance coach," it was her job to give others bad news about suspensions for poor attendance. People avoided her, she says, and it made her feel so awful she was considering asking for a leave of absence.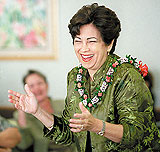 Linda Andrade Wheeler gestures to help make a point during one of her motivational talks to employees of American Express.

Richard Ambo • The Honolulu Advertiser

Then she took a stress management seminar from Linda Andrade Wheeler.

In an afternoon, says Valiente, her life changed. Though she still delivers bad news, Wheeler gave her the inspiration to do it differently. Now employees thank her for caring, and seem grateful when she tries to work out solutions.

"Now I call myself Tinkerbell," says an astonished Valiente.

To Wheeler, Honolulu's feel-good guru, the story is a delight but also a surprise.

"It wasn't me. She was ready," she said. "I'm not the person who changes anybody's life. They change it. I'm just the instrument. Everything in life teaches, but it depends on how much you want to learn."

On this sweltering morning in the new year, Wheeler is perfectly turned out. Her outfit screams career woman, but with an attitude, one of those yachty things that look good even if you don't. But she does. At 60, Wheeler has good skin, rested eyes and rascal lines at the corners of her lips, leftover perhaps from small-kid days in the sugar mill town of Pu'un«n« on Maui.

But her message of self-empowerment is no regurgitated Gibran or DeAngelis. It's personal empowerment local-style, with plenny laughs, a dose of pidgin and a big heart.

"Eh," she says, "life is designed to make you better, not bitter, but you have to look at it the right way."

Take her idea of house-cleaning.

"I would tell the boys in summer, 'OK, paint house, I don't want to clean 'um.'" Or the initials she put at the top of every school exam - JMJ - for "Jesus, Mary and Joseph," the mantra recited by good Catholic girls who wanted to ace their tests.

Or advice from her father: "Go gettum, no sca'ed 'um."

"I was never accepted in the Portuguese, Filipino or Chinese cultures because I wasn't pure," she says, of those early days on Maui when the term "half-breed" was slapped on the five Andrade sisters and the gentler "hapa" had not yet surfaced.

Instead of resenting the slur, she soaked up the differences. "I learned to look at the culture inside, the person I am. The culture within me became more important, the one you felt with your heart," she said.

"I think it was Eleanor Roosevelt who said 'No one makes you feel inferior without your permission.'"

In the last 25 years, Wheeler has written five books, gone back to school for a doctorate in education, raised three sons and started her own business helping the rest of us get it together.

The books were first begun to ease her despair over the in utero death of her first child, but later became an escape from studying as she commuted from Maui to O'ahu three times a week despite a full-time job as a teacher trainer.

Three times a week for a decade, she finished work, hopped an inter-island flight with her sleeping bag, and got a ride to the Manoa campus to slide into a seat at her graduate seminar.

By the time she had the doctorate, she felt as if she "owned the airplane," and should share the degrees with UH Johnson Hall dorm mother Cindi Heu, whose floor she slept on, the folks at the interisland airlines who looked out for her, and her husband, Milton, who had to learn how to cook in a hurry.

But her best friend, retired teacher Yuki Iwatake, also from Maui, says Wheeler's "eight-track" mind is what keeps her going, along with her sense of kindness.

"You know how people can be very ratty," says Iwatake. "Well, she'll turn around and say something very positive about that person. No matter what, she treats people all the same."

Not long ago an older man with a limp stopped at Wheeler's store at Ward Centre where she was signing the latest of her five inspirational books, "Ain't Life a Pomegranate."

The man told her that all his life people had called him "good for nothing," and treated him badly. "Really?" she said. "Why would they do that?"

Well, he replied, he wasn't all that nice to them, either.

Wheeler looked at the man thoughtfully.

"You know," she said kindly, "you've got to give out good stuff to get it back."

With that, she took two books he'd been looking at and gave them to him.

"I want you to know what kindness feels like," she said. "Go be kind. It's very powerful."

The man thanked her and then burst suddenly into tears. Wheeler passed him tissues, and said later she had the sense that the pains of many years were being flushed out.

"So many people blame others for what they can't do in life," she muses. "But you have to own your own life. Don't just rent space. Life is not all positive and happy. It's lessons.

"People think that because they made a choice, they have to stick to a destination. But life is a journey. You can examine your choices and drop those that don't work for you."

"People have to realize they're the creators of their own destinies. Never be embarrassed at where you start, only at what you become, because it's up to you."

Wendy Brown, a compliance administrator at American Express Financial Advisors, is taking that to heart. A couple of weeks ago she listened to Wheeler talk about self-empowerment.

"It was an uplifter," she said after the hour. "Her stories are easy to relate to. It was real down-to-earth." Brown borrowed Wheeler's latest book, took it home and read it with her boyfriend who is going through tough times getting his plumbing business started.

"It's really slow," explains Brown. "We were talking about things he could try differently. This was good, it makes people think."

Vernon Wong, a field vice president for American Express Financial's planning division, likes Wheeler's influence on his employees in challenging times.

For more information

Linda Andrade Wheeler can be reached through her shops, the Successories stores; 543-5911. Located at 1141 Bishop St., 10 a.m.-2 p.m. Monday-Friday; Ward Centre, 10 a.m.-9 p.m. Monday-Saturday, 10 a.m.-5 p.m. Sunday.

"In corporate America, everyone's dealing with change," said Wong. "But it's not so much the change that's important, it's how you deal with it. People can either embrace it and go with the flow or fight it, and that's not very effective.

"A lot of people think this (a motivational seminar) is the soft approach," added Wong, "but it helps get people happier with what they're doing."

At a time when others her age are pondering retirement, Wheeler piles on the projects. Though she retired from the Department of Education, it has called her back to train children and administrators alike about discrimination and sexual harassment in the school system. Along with that, she runs her Successories franchise stores, with peppy little products and seminars to lighten the corporate and personal load.

When she needs a lift of her own, she'll often find an envelope slipped into her hand by husband Milt, or son Garrett, president and chief operating officer of the family business. The envelopes hold gift certificates for massages.

As well as being caring little gifts, they're quick "heads-ups" that she's maybe getting a little testy. Rather than being offended, she appreciates the reminder that she, too, is enmeshed in the daily struggle to be a better person.

Wheeler's books began with a series of haiku poetry, moved on to treatises on kindness and resiliency, and are now comparing daily challenges to, well, the prickly artichoke or seedy pomegranate.

More books are coming.

To write she typically closets herself for hours, husband Milton hovering nearby with food trays. "He's the steady keel," she says. "He lets me touch base and fly and come back."