By Will Hoover
Advertiser Staff Writer
Among all-time great animated shorts, cartoon historian Steve Schneider has conferred "Holy Grail" status on one: Bob Clampett's "The Great Piggy Bank Robbery," a 1946 classic starring Daffy Duck as "Duck Twacy," private de-tek-a-tive.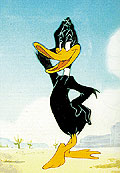 This original transparency cel of Daffy Duck with background is from the 1948 cartoon "What Makes Daffy Duck." It and other artifacts from Hollywood's animation heydays are part of "The Art of Warner Bros. Animation," now showing at the Honolulu Academy of Arts.


©Warner Bros.

Schneider, 41, curator of "The Art of Warner Bros. Animation," which is on exhibit at the Honolulu Academy of Arts, has devoted half his life to piecing together the world's premier collection of Warner Bros. original animation materials.

As a greatly expanded version of an exhibit that wowed visitors at the New York Museum of Modern Art in 1985, you would assume it includes animation cels and drawings from "Piggy Bank." But there is no trace of the cartoon.

"There's not one known cel, note or animation drawing from that cartoon that still exists," laments Schneider, who began his collection when he discovered few original Warner Bros. animation artifacts had been saved. "And this is a masterpiece of modern filmmaking."

Still, the 160 animated cels, backgrounds, story sketches, layout drawings and exposure sheets included in "The Art of Warner Bros. Animation" represent a golden era in which theatrical short subjects were cranked out for movie audiences.

They also represent a burst of unmatched creative brilliance in animation.

"This is one of those little happy miracles that came together when nobody was paying attention," explained Schneider. "Something happened at Warner Bros., starting in the late '30s and continuing through the 1940s, that was one of these spontaneous miracles. It lasted about 10 to 12 years, and became one of the treasures of American culture."

However, little historical significance was placed on this treasure at the time the cartoons were made. By the mid-1970s, when scholars began to fully appreciate their cultural significance, most of the materials used in making the cartoons had been pitched in the Dumpster.

All of which makes the academy exhibit worth seeing. Not only are these depictions of Warner Bros.' most popular cartoon characters quality specimens, most have historical importance, as well.

There is, for example, the only known model sheet of Warner Bros. first cartoon star, Porky Pig, who in this 1935 rotund incarnation might better have been dubbed Porky Hog.

Artist Vivie Risto's 1942 layout drawings from the first-ever color Looney Tunes cartoon, "The Hep Cat," include fascinating director's annotations. The value of the exhibit, in addition to presenting an entertaining inside look at Bugs Bunny and company, is to highlight the methods used to make these extraordinary films.

'The Art of Warner Bros. Animation'

1-4:30 p.m. Tuesdays through Fridays, 10 a.m.-4:30 p.m.
Saturdays, 1-5 p.m. Sundays; through April 1 (closed weekday mornings to accommodate school tours)

Honolulu Academy of Arts
$7 ($4 seniors, students and military; academy members
and children under 12 free)
532-8700, 532-8701

Honolulu artist Dan Boulos, who has worked as an animator for both Warner Bros. and Disney, is in awe of the "full animation" techniques that directors such as Clampett, "Tex" Avery and Chuck Jones used to create cartoons. (By the 1960s, movie studios could no longer afford the process.)

"In terms of an animator's traditional skills, it's about the same as today," said Boulos, who owns the Wiki Wiki Cartoon company. "But in terms of technology, the process is all very different."

The main difference is that today's animator no longer uses transparent animation cels, said Boulos. Hand-drawn cartoons and backgrounds, as well as hand-inked and hand-painted cels, have been replace with computer generated images and digital painting.

"But a lot of us really like the antics in those old cartoons, the ones like directors 'Tex' Avery and Bob Clampett did," said Boulos. "Their animation was tops, and I think there are things you can do with drawn animation that you can't do with computer generated animation."

As discomforting as it is that most of the actual artifacts associated with the great Warner Bros. cartoons have disappeared, the results themselves remain intact. "The Animation Station," the academy's interactive animation gallery, features a 75-seat Cartoon Theatre that continually plays such classics as "One Froggy Evening," "The Hep Cat" and, of course, "The Great Piggy Bank Robbery."

Even before the exhibit opened, according to Charlie Aldinger, academy public relations director, staff members were drawn to the theater like a magnet. After its doors opened, there wasn't an empty seat to be found.

"There has been standing room only," said Aldinger. "And there has been laughing."

Laughing is the reason Warner Bros. cartoons were made in the first place.

And that's all, folks.

Editor's note: Art critic Virginia Wageman is on a brief leave; her column will return Feb. 11. Next week, we'll visit the new Luce Pavilion under construction at the Honolulu Academy of Arts.