By Katherine Nichols
Advertiser Staff Writer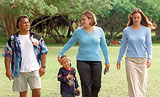 From left: Etuale, Toma, Samara and Bernie Suafoa walk together at Moanalua Gardens.

Jeff Widener • The Honolulu Advertiser

Sitting in his vice principal's office at Radford High School in Salt Lake, Etuale Suafoa talks about his favorite weekend activities: longboarding a 10-foot Makaha swell, jogging, and mountain biking the trails near his Waikele home.

His voluble enthusiasm for his life outdoors, at school and at home give the impression that this 49-year-old father and grandfather, with 26 years of experience in education, is trying everything for the first time.

But his athletic prowess is not new; his passion for sports began long ago, even before he was given Radford High School's Co-Athlete of the Year Award as a senior.

In fact, his talents and work ethic in football, wrestling, and track and field helped provide a passage to a new life.

When Suafoa arrived in Hawai'i from American Samoa as a 4-year-old boy who spoke no English, he never imagined that he would one day become the only Samoan administrator in Hawai'i's educational system and the father of two daughters who are not only teachers, but leaders in Hawai'i's public schools.

He and his family are quietly aiming to break the negative stereotypes that often plague people of Samoan ancestry.

Robert Stevens, the principal at Radford High School, thinks highly of the family. "They're all outstanding because they're all independent people," he said. "They make contributions in individual ways (through coaching, teaching, special education and administration). Etuale works well with people, he's not afraid of taking on additional assignments, and he's a collaborative person. He reaches out to teachers in need."

Looking beyond surfing

Etuale's challenging journey made him the person he is today, and profoundly influenced the way he and his wife of 30 years, Constance, raised their two daughters, Samara and Bernie.

"We had no money," said Suafoa of his childhood. "I began working in the fourth grade selling newspapers (out of Pearl Harbor) to help support my mom."

The second of four brothers, Suafoa said he was taught at a young age to take responsibility for himself, especially since his father, an educator and retired Marine, was ill with epilepsy for much of Suafoa's childhood, and died when Etuale was in the seventh grade.

In junior high and high school, Etuale devoted himself to surfing. But an influential coach and athletic director, John Velasco, convinced Etuale that there was no future on the waves (professional surfing had not yet begun), and that he could earn a scholarship and go to college.

He took Velasco's advice to heart - to be disciplined, respectful, humble - and incorporated it with the value of hard work his parents taught him.

Now, with a bachelor's degree from Eastern Washington University, 20 years as a school counselor and coach at Moanalua High School, and six years as vice principal at Radford, he is only two classes away from earning his master's degree from the University of Hawai'i at Manoa.

One of his immediate goals is to finish that degree.

Another is to break the stereotype that many people have about Samoans - and that many Samoans have about themselves.

Under-represented

The stereotype, said Suafoa, is that we're "not educated, unable to work with other cultures, unable to communicate, that we're big and brawny and thugs, and that lower-level jobs are all that's available to us."

The truth, said Suafoa, is that "we're just like any race. There's good and there's bad."

He wants people to take note: "Hey, we can go to college. We do have innate leadership skills."

But he expects that the evolution will be slow.

"It amazes me that, given the number of Samoan students we have in our schools, there are only 20 to 30 Samoan teachers and one Samoan administrator." He said he has been looking for another Samoan school administrator in Hawai'i, but has yet to find one.

"My own personal mission is to try to influence our Polynesian students to get into education; I think they have a lot to offer."

Two people he has motivated in this regard are his daughters, Samara and Bernie.

Samara Suafoa, 25, now acting as an interim vice principal at Kalakaua Middle School, usually teaches special education.

Ben Lapalio, principal of Kalakaua Middle School, said he "reluctantly took her out of class" to fill the vice-principal role because "she's able to discipline kids in a nurturing way. She commands respect. And she's a quick learner."

Why was Lapalio hesitant to pull her into administration? Because of her value in the classroom. "Samara is the leader for one of the seventh-grade class teams (which plans interdisciplinary units on a daily basis), and she helps coach volleyball, basketball, and track and field," he said. "I'm very much impressed with her."

Samara credits her father for her success: "He has always been a good role model, but he encouraged us to find whatever we were good at and to go for it. For him, it's really important to give back. I always remember him going to classes at UH during the summer, or working multiple jobs. He's always wanted to take on challenges."

Stevens believes they serve as "good role models for kids of every ethnic group."

But it's clear they've had an impact on more than a few Polynesian students.

Position a validation

When she first started teaching, Samara did not think her half-Samoan, half-Caucasian ancestry was special.

"I didn't understand what it meant," she said. "But later, the kids would see my name on the door, and they would come in to see if there really was a Samoan teacher there, or if I was just married to a Samoan."

"These kids would come up to me and say, 'Tell my friend that you're really Samoan.' This was a validation for them. That's when I realized that my position was more than just being a teacher."

Samara, who is also the mother of a 4-year-old boy named Toma, hopes to witness changes in the future: "I wish there were more Polynesian people in professional careers. The only real role models are athletes, and they assume that's their only potential, and I think it's sad when we cut them short."

Though they want youngsters to maximize their potential in all areas, Samara and her sister Bernie, 29, a teacher of seventh- and eighth-grade health, physical education and Spanish at King Intermediate, are the first to attest to the value of sports.

Both earned school "athlete of the year" honors at Moanalua High School, where they excelled at basketball (dad was the assistant coach) and volleyball. They later attended college on volleyball scholarships. But like Samara, Bernie believes her influence as a teacher extends beyond the court or the classroom.

Many of the children of all ethnicities in the King Intermediate area have one or both parents absent. In some cases, grandparents are the only ones raising them.

"They need positive role models," said Bernie. "They need to see more Polynesian teachers, people they can relate to. We want to encourage them to see that they can achieve whatever goals they set their minds to."

While their father's philosophies are evident in Bernie's and Samara's attitudes, they acknowledge their mother's supportive, calming presence as an important influence in their lives. Constance, who works as a receptionist for the publication This Week and also teaches ice skating at Ice Palace, serves as her family's foundation.

She and Etuale devoted all of their energy to their daughters. Said Bernie: "They gave up everything for us to stay in school."

"Our children are our biggest investment," her father confirmed.

It's clear that Etuale Suafoa, who also started a vocational/technical school called "Saturday Enrichment in the Park Foundation" to help alienated youth gain practical skills, leads not with words, but by example.

"If you have high expectations of children, they will rise to them," he said. "But they have to see that parents, coaches and administrators are living it, too."