By Hugh Clark
Big Island Bureau
HILO, Hawai'i - It was 15 years ago today that the space shuttle Challenger disaster in Florida killed Kona's Ellison Onizuka and six other crew members.
Yesterday, more than 300 Big Island students turned out for the first Onizuka Science Day at the University of Hawai'i-Hilo.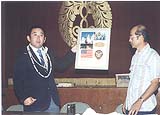 In 1985, Ellison Onizuka presented space mementos to his former Explorer Scout adviser, Norman Sakata. The astronaut died in the Challenger disaster 15 years ago.

Photo courtesy Norman Sakata

Former astronaut Steve Hawley and internationally known Japanese astronomer Keiichi Kodaira were special guests.

Onizuka's former Scouting adviser, Norman Sakata, said he still works to perpetuate the legacy of the outstanding member of his Explorer post. He said: "I am sure Ellison must be happy to know his legacy will carry on. He always wanted to share his space experience."

Onizuka, who was born 54 years ago, was an explorer - a voyager, as Hawaiians put it - who saw the expansion of knowledge as his life's work.

In 1985, Onizuka thrilled children around the island during a series of classroom presentations about his January 1985 flight aboard space shuttle Discovery. His greatest love, Sakata said, was inspiring young people to raise their goals.

That's why yesterday's event would "have pleased Ellison very much," Sakata said, because children were "truly his constituency."

University of Hawai'i Regent Alan Ikawa presented Big Island students with a copy of Onizuka's 1980 commencement address to Konawaena High School's graduating class. The speech emphasized the duty of each generation to pursue scientific inquiry.

"Every generation has the obligation to free men's minds for a look at new worlds · to look out from a higher plateau than the last generation." Onizuka said in his address.

"Your wisdom is not limited by what your eye can see but by what your mind can imagine. Many things that you take for granted were considered unrealistic dreams by previous generations. If you accept these past accomplishments as commonplace then think of the new horizons that you can explore."

Today, Hawley will be at the Onizuka Space Center at Kona Airport from 10 a.m. to 12:20 p.m. for an open house that will memorialize Onizuka.

Nancy Teshima, a former public school teacher, runs the center, which helps to educate about 8,000 students each year from all over the state.

She said the center has 20,000 adult visitors every year. The interactive science museum was established by contributions during the mourning period that followed the Challenger disaster.

Onizuka will be honored in Honolulu's Aloha Festivals parade Sept. 14 along with navigator Nainoa Thompson. Claude Onizuka, the late astronaut's younger brother, will represent the family.