By James Gonser
Advertiser Leeward Bureau
KAPOLEI - Construction work at Kalaeloa Harbor has been ongoing since the early 1980s.
Even though the state-run harbor (formerly known as Barbers Point) became fully operational in 1990, construction crews have continued to dredge its bottom, build new piers and expand its space.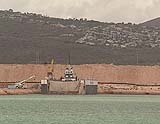 Since the state-owned Kalaeloa Harbor opened for business in 1990, efforts have been made to make it as much of a revenue generator as possible. Now, several construction projects are under way to expand use of the harbor even further.

Photos by Cory Lum • The Honolulu Advertiser


The harbor handled nearly 3 million tons of coal, fuel, cement and other bulk cargo during fiscal year 1999, making it the state's second busiest port behind Honolulu Harbor. Its fiscal 2000 revenue totaled $2.8 million.

And now, despite the concerns of area residents and others, efforts are under way to make the port into even more of a workhorse. The state has two projects in mid-construction, and is hoping next year to begin a $25 million dredging project with the U.S. Army Corps of Engineers that will make Kalaeloa a truly deep-draft harbor.

In addition to these projects, area companies are developing new businesses or expanding their presence at the site.

Industrial projects

Hawaiian Cement, for instance, has nearly completed a new $20 million manufacturing facility at the harbor, which will replace the Campbell Industrial Park site it has occupied since 1959.

The new facility will include a 600-ton-per-hour pneumatic ship unloader, two 30,000-ton-capacity storage domes and truck and barge loading stations. The first shipment of raw materials is expected to enter the terminal on April 15, and Hawaiian Cement expects to import about 300,000 metric tons of cement annually.

It also plans to expand that figure to 500,000 tons, and is planning to eventually build a warehouse for bagging cement, a 5,000-ton storage silo for blending operations and an administrative office.

For Hawaiian Cement, one of Campbell Industrial Park's first tenants, moving closer to the harbor makes sense, said Jeff Ching, manager of cement operations.

"Barbers Point harbor has been very beneficial to Hawaiian Cement," Ching said. "Just having it close to our plant is very cost effective. To bring everything from Honolulu, with all the traffic, would be very expensive."

Besides Hawaiian Cement, Fred Anawati, the owner of several marine companies, plans to spend $3 million to develop a small-boat repair facility, a liquefied petroleum gas storage terminal facility and a public boat ramp on a 7.5-acre site near Pier 1. He also plans to expand a floating drydock that he owns.

The gas terminal site will be subleased to the Gas Co., which will move its storage tanks and barge terminal from Honolulu Harbor. Work is expected to begin in March and take about eight months to complete.

State expansion plans

As the corporate projects get under way, the state expects to complete a $4.75 million expansion of Pier 5 in May. In addition, piles currently are being driven into the harbor to support a new 800-foot Pier 7 under a $16.5 million contract with Hawaiian Dredging.

The state two years ago spent $13.9 million to expand the harbor by 1,100 by 600 feet. That project removed 2 million cubic yards of material and cut out a new section of the harbor for commercial use. It also set the pace for an even bigger project: dredging the harbor itself.

According to a draft supplemental environmental impact statement filed by the U.S. Army Corps of Engineers and the state Department of Transportation's harbors division, the project would deepen the harbor to 45 feet, from 38 feet currently.

Such a move is deemed necessary because the larger, heavier bulk carriers that use the port often must be "light-loaded" so they won't scrape bottom - a process that is time consuming and costly.

The statement says the dredging would fulfill the state's plan for commercial harbors through 2020.

However, area residents, fishermen, environmentalists and local lawmakers have their concerns.

Residents wary of noise

The dredging project would remove 1.8 million cubic yards of rock and sand from the harbor bottom, would deepen the entrance channel to 45 feet and include a 450-foot jetty on the north side. And, according to the environmental study filed by the Army Corps and the state, the project may require blasting away hard rock.

Many residents fear that this will not only harm the marine environment but also generate dust and noise.

Jane Ross, a resident of Honokai Hale, noted that blasting during the original construction caused damage to area homes. She added that the use of smaller explosive charges, while more expensive, might alleviate the problem.

"Our position is if the work needs to be done, we will not oppose it provided it does not disturb our community," Ross said. "That would be by blasting, shaking our homes and working at night. And don't pile the coral rubble close to our subdivision because of all the problems we had with the dust last time."

She added: "I know it would be more expensive and take longer, but it needs to be done that way. Do it, but do it right."

Concerns about sea life

In addition to residents' complaints, fishermen and environmentalists worry that the dredging may affect fish stocks, coral reefs and turtles that live outside the harbor.

Milton Yoshimoto with the Army Corps said those issues will be addressed in the final environmental impact statement, which is expected to be completed in summer 2002.

"We've identified more work that needs to be done," Yoshimoto said.

Area benefits sought

But as the state and Army Corps proceed with the study, some, such as Sen. Colleen Hanabusa, D-21st (Barbers Point, Makaha), have questioned whether the harbor's commercial development holds benefit for area residents. Although the state economy relies on the revenue the harbor generates, Hanabusa said area communities have gained little.

"I think that a frustration we have with on our side of the island is the fact that we've got the harbor, the industrial park, (the Army in) Makua, the landfill, H-Power, all the power plants," Hanabusa said. "We are stuck with them and we are going to have to continue to have these kinds of improvements made in order for the rest of the state to function."

She added that the harbor could be used in a way that would better help the area communities.

She noted that one proposal would let cruise ships stop at Kalaeloa, bringing in tourist dollars to businesses along the Wai'anae coast and providing customers for the water park and the proposed amusement park in Kapolei.

"When is the rest of the state going to realize the quote 'negative' externalities that we are dealing with and when does the area begin to benefit? The area is taking a big hit here. Give us something back."

Hanabusa added that other potential uses of the harbor make it too early to judge its total impact.

She said, "I'm looking for the potential additional use of that harbor."