By Tanya Bricking
Advertiser Staff Writer
Grieving students placed flowers in front of a classmate's locker yesterday at Kamehameha Secondary School, and just off the glistening coast of Kane'ohe Bay a grandmother drove to the scene of an accident to say goodbye to the 16-year-old boy she had raised.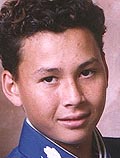 Taulen Fujihara played wide receiver on the Warriors football team and saxaphone in the marching band.

Friday's death of Taulen Fujihara did more than leave a void on the football team and marching band.

It gave grandmother Bettie Stephenson a reason to ponder the fragility of life.

It gave high school boys a reason to practice music Taulen would have liked, and agree to sing and play the ukulele at his funeral.

And it gave Rep. Barbara Marumoto (R-Wai'alae Iki) a reason to renew her push for legislation banning anyone from riding in the beds of pickup trucks.

In 1996, a Kailua 14-year-old's death was the impetus behind a call to restrict people from riding in the beds of pickup trucks. Kailua High freshman Dina Akiona was one of six people in Hawai'i who died that year while riding in truck beds.

By 1998, a Hawai'i law went into effect prohibiting pickup truck drivers from having passengers 12 years or younger in the bed of a truck.

But Marumoto said even that is not enough.

"Pickup trucks are not designed for passengers in the back — any age," the lawmaker said. "I think more people are conscious of the fact that it is dangerous. But we've got to keep pushing for a total ban."

Taulen had gone to a party with friends Friday night when one friend let another drive his pickup. Three people sat up front, and Taulen was one of the boys in the back. It was just before midnight when his gray baseball cap went flying. Taulen and another boy yelled for the driver to stop. Taulen jumped or fell from the truck bed. He hit his knees and his head and died at the scene.

Stephenson said she planned to call her grandson's friends and tell the boy who owned the truck not to blame himself. She knows his friends must feel as awful as she does.

But she would like stricter legislation.

"I think it's so dangerous," she said. "I shiver when I see little kids riding in the back of a pickup truck. I don't think anybody should ride in the back."

At Kamehameha School, counselors were on hand yesterday and classmates wrote in their journals about Taulen, principal Tony Ramos said. The school is planning a memorial service in addition to the funeral the family will hold at 7 p.m. Feb. 6 at Hawaiian Memorial Park in Kane'ohe.

They will remember the high school junior with high aspirations, the good student and Mormon, an Eagle Scout active in sports, the boy who liked soccer and water polo and was a wide receiver on the varsity football team and a saxophone player in the marching band.

His grandmother said she would remember the boy who could fix anything, the one who dreamed of being an engineer, a Navy SEAL or policeman, the one who was the role model for three younger siblings.

Stephenson said she is surprised and comforted that her grandson was so loved by so many people.

"I'm hoping that this is a lesson for all young people," she said. "I think his mission on Earth was maybe to show people that life is short."