By William Cole
Advertiser Courts Writer
Prosecutors yesterday strung together a series of accounts that they say will show Joel Keoni Brunson went to an 'Ewa Beach party last year armed with a gun, threatened to shoot one teenager and was seen firing in the street when another teen died.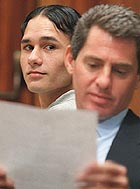 Joel Brunson, left, sits beside his attorney Myles Breiner as his trial begins. Brunson is accused of shooting a teen after an altercation at a party last May.

Jeff Widener • The Honolulu Advertiser

"This case is about a young male who went to a birthday party. He brought his 15-year-old girlfriend, pregnant with his child, and he brought a 9mm semiautomatic handgun because he wanted to show he was the man," Honolulu deputy prosecutor Franklin Pacarro Jr. said during opening arguments in Brunson's murder trial before Circuit Judge Michael Town.

Brunson, 18, is accused of shooting Robert Rodemio, also 18, at a party May 20, 2000.

Myles Breiner also told the jury that it wasn't Brunson doing the shooting in the nighttime darkness on Miula Street — only someone who looked like him.

"You will hear witnesses tell Keoni Brunson looks like the shooter," Breiner said. "That resemblance is why Keoni is here. That resemblance is why he is being prosecuted." And while witnesses will swear Brunson was present, they will give "wildly contradictory descriptions of him," the attorney said.

Brunson, on trial on charges of second-degree murder, terroristic threatening and firearms violations, remains free on electronic monitoring after his bail previously was reduced from $50,000. He faces life in prison with parole if convicted of the murder charge.

Pacarro, of the prosecution, said witnesses would describe how Brunson got in the middle of a fight between Ryan Villarta, who had come to the birthday party with two Waipahu boys, and some teens from 'Ewa Beach, by pointing a semi-automatic handgun at Villarta between 9:30 and 10 p.m.

"He (Brunson) said, 'Wanna fight?' or words to that effect," Pacarro said. Brunson's girlfriend jumped in, saying, "Enough already," separating Brunson and Villarta, Pacarro said.

The party for a 14-year-old girl involved underage drinking, Pacarro said, adding that Villarta and his friends felt "dissed" after the showdown with Brunson.

A street fight broke out about a half hour later, after Villarta returned with "a few more boys" and some bats, clubs and knives, the prosecutor said.

Pacarro said Rodemio was running when he was shot in the stomach. Another shot hit him in the back, on the left side. He had recently moved to Hawai'i from the Philippines and was attending Farrington High School.

Mark John Dela Cruz of Waipahu said he saw Brunson pull out the gun and heard three shots fired.

Pacarro said Brunson denied threatening or shooting anyone when police questioned him, saying he was at the party only for about 10 minutes when he had an argument with his girlfriend and she drove him home.

Brunson's mother also has said her son was with her at her 'Ewa Beach home helping watch his two younger brothers at the time of the shooting.

Brunson's trial is expected to last two to three weeks.